While NASA's Kepler mission has turned up plenty of evidence for planets in distant solar systems, the light from stars makes it very difficult to 'see' them. Now, in what the space agency is trumpeting as an important first, the Spitzer Space Telescope has detected the light emanating from a super-Earth planet called 55 Cancri e.
Previous planets observed in visible spectrum have been gas giants, far larger than the new discovery.
NASA says the super-Earth – a planet heavier than Earth but probably lighter than Neptune – is visible in the infrared, with a star-facing hot side that's estimated at more than 2,000 Kelvin. Locked by tides, the planet always faces the same side towards its star.
The planet's high-speed orbit takes it around 55 Cancri in a fleet-footed 18 hours, while its mass is around eight times greater than Earth, packed into a volume around twice that of our home.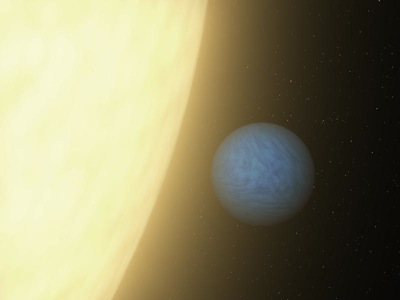 Just super: NASA impression of 55 Cancri e. NASA/JPL-Caltech
Prior work on 55 Cancri e had focused on watching the star's visible light change when transited by the planet. NASA says the new study looked instead at the infrared: measuring the change in infrared when the planet was behind the star, compared to when it's on "our side", allowed the astronomers to calculate how much of that infrared is emitted by the planet.
When visible, the planet's infrared is brighter than the star.
The agency believes the planet is probably a rocky core surrounded by water in a "supercritical" state "where it is both liquid and gas", and "topped by a blanket of steam".
"It could be very similar to Neptune, if you pulled Neptune in toward our sun and watched its atmosphere boil away," said Michaël Gillon of Université de Liège in Belgium, principal investigator of the research, in NASA's statement.
At 41 light-years distant, 55 Cancri is practically our neighbor. NASA says the observation is "an important milestone towards being able to eventually perform a similar technique on smaller, potentially Earth-like planets." ®
Similar topics