This article is more than 1 year old
VeriFone takes on Square with cheaper iPhone-friendly kit
But is it hip to be triangular?
Payment-terminal giant VeriFone is finally taking the fight to upstart Square, with its own iPhone-friendly card reader and lower transaction fees along with a cloud-based control panel and promises not to treat every customer as a potential criminal.
VeriFone dubs its Square clone "Sail", on the basis that its iPhone accessory is, arguably, shaped like yacht's sail. More importantly the service links to a cloud-friendly back end and allows merchants to sign up with a few clicks and no credit check.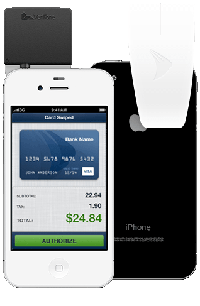 Looks more robust than Square's reader,
but then so does a chocolate bridge
It's the ease of use and simplicity of signup which has made Square such a success, especially when compared to VeriFone, whose reputation for vetting customers so carefully has driven many of them away despite its dominance of the industry. When Square launched, VeriFone immediately laid into the upstart with "consumer alert" videos and a special website alerting everyone to the dangers of using Square's iPhone dongle to read the magnetic stripe on the back of a credit card.
VeriFone's accusation that Square stores the card number, unencrypted, in the iPhone's memory remains true, but few people seem to care and in the absence of any significant fraud we have to assume that has remained secure enough. VeriFone's own dongle is larger, and we'd assume encrypts the information properly, but that's not what's going to sell the service.
More important, to both Square and Sail, is the ease with which merchants can set up accounts. In both instances one just fills in an online form, complete with the last four digits of your US Social Security number, and provides the details of a (US) bank account. Square deposits and withdraws a few cents to confirm the details. Sail just deposits a similar amount and then asks the user to say how much it was, both processes being completed within a couple of days.
Both systems allow you take payments by typing in card details immediately, but they'll also post you the iPhone/iPad compatible readers. Anyone wanting to take payments on an Android or BlackBerry handset will have to go to PayAnyway (another new entrant hitting shop shelves today), and anyone hoping to use one of these new services outside the USA will just have to wait for magnetic strips to make a comeback.
But Americans who sing up to Square or Sail can accept credit card payments at a cost of 2.7 per cent for every swiped card, and 3.7 per cent (or 3.5 per cent + 15 cents for Square) where the numbers have to be typed in – as that's more open to fraud.
That's without paying a monthly fee. VeriFone also offers a "Pro Plan" (aka the "Value Plan", thanks to hastily written documentation), which charges $10 a month but reduces the fees to 1.95 per cent and 2.95 per cent respectively. That reflects VeriFone's monopoly, but should also prevent Square getting a foothold into the larger retailers.
VeriFone also lets merchants use proper point-of-sale equipment, including NFC-compatible readers for pay-by-bonk functionality, rather than relying on iPhones with delicately-balanced dongles in their headphone sockets (both companies use the headphone connector, though only Square relies on it for both connectivity and anchoring). ®