Dell's PowerEdge server line is once again trying to get out in front of Intel, announcing that its PowerEdge-C family of microservers are revved up with the new Ivy Bridge Xeon E3 processors, which the chip giant is launching soon.
Dell might plunking the forthcoming E3-1200 v2 processors, which are baked using Intel's 22nm process and Tri-Gate transistors, into other machines designed by its Data Center Solutions. However, it will no doubt also put the Ivy Bridge Xeon E3 chips into low-cost single-socket tower and maybe even rack servers. For now, ahead of the Intel launch, all Dell is talking about for the new Xeon is a modified C5220 microserver sled in the "Dragon" family of servers that slides into its "Viking" C5000 chassis.
Here's how it works: Dell creates a custom dense and hyperscale server design for one of its two-dozen big data center customers and then takes the most appropriate configuration out for wider distribution and makes it available as the PowerEdge-C line.
Back when the PowerEdge-C machines were first launched, you could not buy these boxes directly from Dell or channel partners, but rather had to do a quasi-custom engagement with Dell so they can make sure you were getting what you need and can plan their manufacturing lines. These were not high-volume servers, but they were not supposed to be onesies and twosies, either. In any event, now that Dell has enough volumes with the PowerEdge-C machines, you can get them directly through Dell and through channel partners.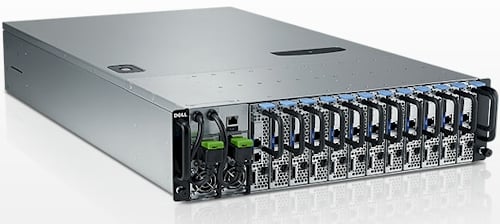 Dell's Viking PowerEdge C5000 microserver chassis
In March 2011, Dell put out the C5000 chassis and the C5125 microserver sled, based on Athlon II X2 and X4 and Phenom II X4 processors from Advanced Micro Devices, and the C5220 sled, based on the original Xeon E3-1200. These sleds are, of course, single-socket servers with four memory slots. (That's the consensus of what a microserver is these days.)
Now, Dell has reworked the C5220 sled to support the Xeon E3-1200 v2 chip from the Ivy Bridge family, which is essentially a Core i7 Gen 3 chip that plugs into a Xeon socket; it has server-class features such as ECC scrubbing, VT-x virtualization, 64-bit memory and computing, HyperThreading, and server-class operating system support from Microsoft (Windows Server 2008 R2 and Windows HPC Server 2008 R2), Red Hat (Enterprise Linux 6.1), and SUSE Linux (Enterprise Server 11 SP1).
Dell says that Intel will put out 17-watt and 45-watt parts, which it will support in the modified C5220 sleds and which will allow it to deliver as much as 49 percent more performance in a rack compared to the prior generation of Xeon E3 microservers.
The new Xeon E3's are expected to have PCI-Express 3.0 peripheral support as well as all of the extra IO goodies that single-socket version of the Patsburg chipset offers. The 17-watt part is rumored to be a dual-core chip and all of the remaining ten chips will be four-core variants with varying speeds in power consumption bands of 69, 77 and 87 watts. The Ivy Bridge Xeon E3s will presumably also have their on-chip GPUs deactivated to save on energy, as was the case with the earlier Sandy Bridge models.
The PowerEdge C5000 chassis supports two kinds of Xeon sleds at the moment. A skinny one that can handle chips rated at up to 65 watts and that lets a dozen sleds slide into the chassis, and a fatter one that supports 95 watt parts and only allows eight sleds in the chassis. Dell says that it can do up to 50 per cent increased density with the new Ivy Bridge sleds, but readers shouldn't jump to conclusions because that does not mean it has a sixteen sled version of the C5000 chassis coming out.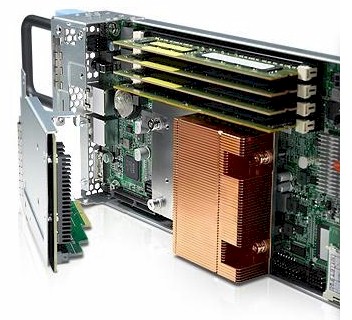 Dell's Ivy Bridge Xeon E3-1200 v2 microserver sled
What Dell means by that is with the prior Xeon E3 sleds, for a given performance and core count, you might have had to use 95 watt parts and therefore only been able to cram eight sleds in a chassis; now with the Ivy Bridge chips, you will be able to step down to 69 watt parts and have around the same performance per sled and burn juice. If thermals are even more important than performance, you can go for the two low-powered Ivy Bridge Xeon E3s and take it way down.
A base C5000 with a single Xeon E3-1200 v2 sled will cost $12,208 and will be available on May 22. ®
Similar topics