Sony Vaio L VPCL22V1E 3D PC
All-in-one with finger fun
---
Review

Finding the all-in-one Sony Vaio L Series with a 1TB hard disk isn't as easy as it might have been. The reason you'll need to be keep a keen eye on the specs is, according to Sony, due to a shortage of hard disks – a consequence of the flooding in Thailand. Indeed, the Vaio L series models soon to go on sale on Sony's web site will only have a 750GB capacity.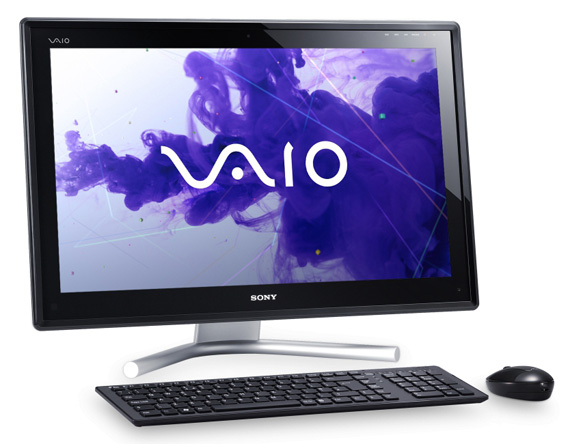 Added depth: Sony's Vaio L VPCL22V1E features 3D viewing
Although the review sample was equipped with a 1TB drive, all other aspects of the machine remain the same – a 2.2GHz quad-core Intel Core i7 2670QM processor, 8GB RAM, GeForce GT540M graphics card, and 24-inch touch-sensitive, 3D-capable screen with 1920 x 1080 resolution. This costs £1499, but there's also a boring old 2D model with a Core i5 processor available for £1199.
The L Series is neatly designed, with the slimline black panel mounted firmly atop a solid metallic base. The 24-inch screen provides excellent image quality and the L Series has both HDMI input and output, so you can plug a games console into it, or hook it up to a larger HD TV screen if you want to use its Blu-ray drive to play some films. It's even got composite video input as well – although personally I'd have preferred a TV tuner instead.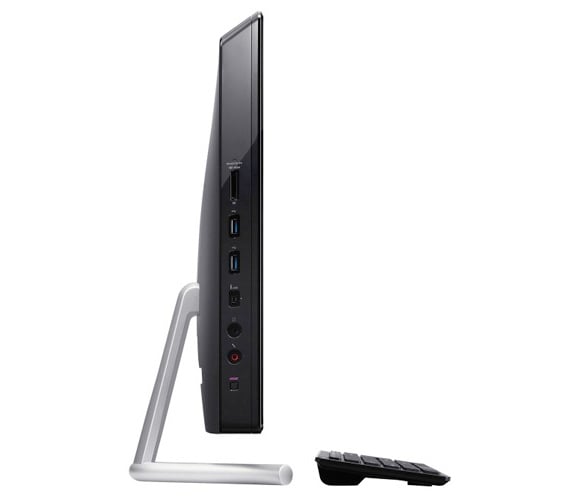 USB 3.0 on board and there's FireWire iLink too
Throw in five USB ports – two of which are USB 3.0 – memory card slot, iLink (FireWire) for Sony camcorders, and an above average set of built-in stereo speakers with Dolby Home Theatre 4 enhancements, and you've got the makings of an excellent multimedia entertainment system. I even liked Sony's Vaio Care software, which provides a straightforward set of diagnostic, recovery and update tools.
With a quad-core i7 CPU, the L Series is no slouch, however, its overall performance wasn't quite a strong as I'd expected. In fact, its PC Mark 7 score of 2670 was almost identical to that of Toshiba's less expensive Qosmio DX730, which has an i5 processor running at 2.4GHz.
Benchmark Tests
PC Mark 7 Results

Longer bars are better
The key culprit here is probably the choice of a less than zippy 5400rpm hard drive, which would have dragged down the overall benchmark score quite a bit.
Graphics performance was a bit better, though. The GeForce GT540M graphics card is by no means top of the range but still managed to run Far Cry 2 at 100fps at my favoured resolution of 1280 x 720 – and that was in 3D mode too, which is quite good fun thanks to the included set of 3D active goggles.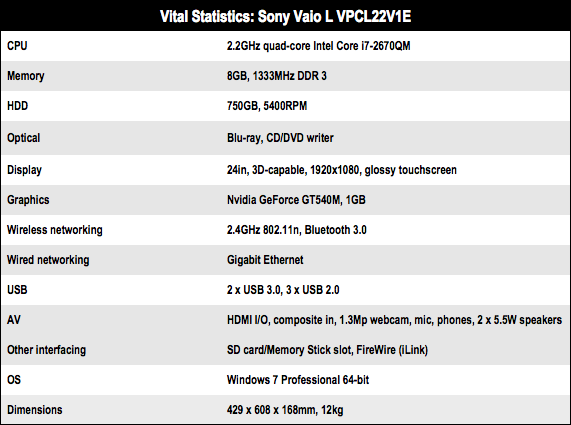 Similar topics
Narrower topics