Economies of scaling
Far Cry 2 is a 3D-enabled game so it works well in 3D, but there's also a 3D upscaling option for 2D video content. To be honest, this didn't add much to my Spiderman 2 or Aliens DVDs, but then I've never seen really successful 3D upscaling from any other manufacturers either, so I can't be too harsh on the L Series for that.
I was also quite impressed by the way Sony approached the touchscreen controls of the L Series. I've always felt that putting touchscreens on desktop PCs was a bit of a gimmick, but Sony has come up with a feature that it calls Edge Access, which does make touch control rather more practical.
In addition to making the main screen touch-sensitive, Sony has also built some additional touch controls into the glass border that runs around the edge of the screen.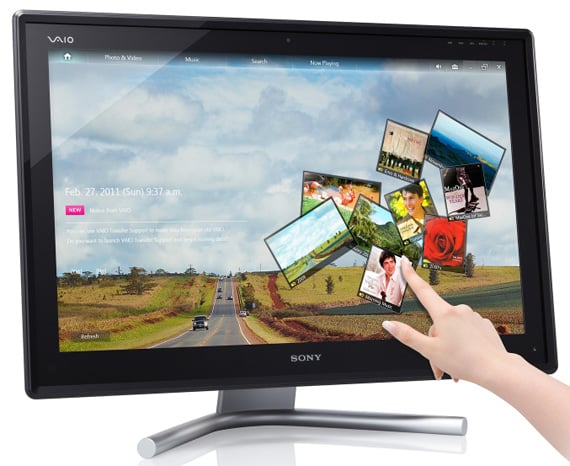 A touch too much?
You can close windows by quickly tapping the top-right corner of that border, or step forward and backward through a series of web pages or photos by flicking your finger right or left along the bottom edge of the border. This makes it much easier to perform basic tasks with the touch-screen controls, although I still reckon it'd be more useful in a showroom or for business presentations than on a desk at home.
Verdict
The L Series is an extremely capable all-round multimedia PC. Its range of AV features is impressive, as is Sony's attention to detail with features such as the touch-screen controls. It's rather costly though, and at this price it really ought to have a more up-to-date graphics chip and hard drive in order to make the most of its quad-core processor. ®
More Desktop PC Reviews

Toshiba
Qosmio DX730
Lenovo
ThinkCentre
Edge 91z
Apple
Mac Mini 2011
HP
TouchSmart 610
Apple
iMac 27in

Sony Vaio L VPCL22V1E 3D PC
An impressive, if pricey, multimedia PC crammed with the latest AV and touch control features.