This article is more than 1 year old
Three kingpin: Mobe termination-charge cuts can't hurt us
Get on with 4G auction already, pleads UK cell challenger
Cuts to mobile termination rates (MTRs) are hurting the company that campaigned to get them cut – but not half as much as they are hurting its competitors. Three network's chief financial officer Richard Woodward said today he reckoned he'd be £130m better off if regulator Ofcom hadn't cut the rate.
The termination rate is paid by all mobile phone users in the UK, with the network sending the outbound call picking up the bill. Originally designed as a sweetener to encourage digital networks, it later became a guaranteed money generator for incumbents, accounting for 10 per cent of revenue according to some estimates. As a newcomer, launching in 2003, Three suffered from the asymmetric arrangement: with Three subscribers generating lots of outbound calls but receiving fewer inbound calls. Three teamed up with BT on a campaign to force Ofcom to scrap the rate. The regulator eventually made a cut of 80 per cent. This, says Ofcom, more closely reflects the true cost, at around 0.7p.
In a briefing today, Three's Woodward said the rate cut was "earnings neutral, overall", and argued that cuts were inevitable. Cutting the rate had allowed Three to introduce an all-you-can-eat data package, he argued.
Three gave telco analysts an insight into its dash for growth. The smallest of the UK's four major mobile networks has set out to double its 2010 subscriber base of 5 million, and says it had reached 6.4 million by the end of last year, with a healthy proportion, around half, coming from contract subscribers. Net additions were 118 per cent up and churn was down 26 per cent. Three boasted 4.25 million new contract subscribers.
"We've had a massive period of acquisition of customers on contract, and managed to absorb it," the firm said.
Dogged by a reputation for terrible customer service, Three UK CEO David Dyson said he thought his company had now "turned the corner in terms of perception". The network now scores most highly on satisfaction ratings for smartphones and in particular, the iPhone, according to Dyson.
Dyson's predecessor Kevin Russell had certainly done an impressive job on stripping out costs from the network, with a 15 per cent reduction in network costs - while increasing the number of cell sites available from 7,400 to 12,600, and increasing throughput eightfold.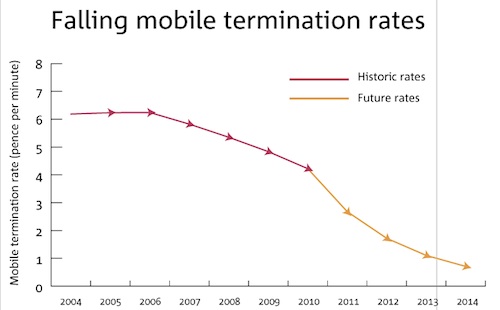 Source: Ofcom
The site increase is down to Three's shrewd 2007 agreement with what was then T-Mobile, to pool their network resources in a jointly owned venture called MBNL.
Dyson hinted he may be able to obtain 1800Mhz spectrum wholesale from frenemy and MBNL partner Everything Everywhere, but nothing had been signed and it remains an option, he said. He also urged Ofcom to hurry up and hold the 4G spectrum auction.
But Ofcom, it seems, has other priorities: such as driving BSkyB out of the UK, and making the nation safe once again for philandering politicians and trouser-dropping actors. ®