VMware Chief Technology Officer Steve Herrod has told an Italian VMUG meeting the VMware's cloud infrastructure suite is still only loosely integrated and that the company has plans to do better.
The video of Herrod's speech has come to light through a Microsoft blog written by Dave Northey, a staffer at Microsoft Ireland, who links to videos of Herrod posted by virtualisation blog Virtual Aleph on its YouTube channel.
Northey's post picks out a section from the third of seven videos of Herrod's speech, and makes light of his comments to the effect that:
"VMware Cloud Infrastructure Suite is really more of a marketing term. Those of you know our products deeply know that they don't fit this well together as they need to. Some of them have multiple databases, some don't look the same, some install differently, and what I can't stand that is Site Recovery Manager doesn't currently work with vCloud Director. So, what we are basically able to say is that we created and acquired companies that led to a lot of individual products that don't work well enough together yet."
Northey capitalises Cloud "Infrastructure Suite" as if it were a distinct product, which it isn't. The confusion is understandable: VMWare uses Caps to name the product in headlines of press releases like this one that announced vSphere 5.
The last sentence of the quote Northey picks deserves attention, because Herrod goes on to explain that VMWare has a plan to make its cloudy bits coagulate more coherently.
"[VMware CEO] Paul Maritz came from Microsoft … and he used to talk about entire departments that were choosing the right word processor for the company," Herrod says. "They would go off and evaluate 1-2-3 versus Excel. And the way that Microsoft changed that world was by making all their products link together so you could buy one suite for all your users."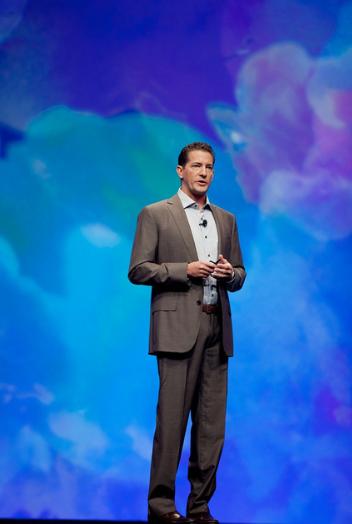 Herrod: Trying to boost automation
"It is not a perfect analogy … but you will see in our next release that all the products tie very closely together. They will be sold together. They will have the same installation process. The idea will be that every one of the products has to work much better together and you will see a number of announcements coming out around that."
Herrod also says the company is "pretty much done" on the next release of vSphere and usually works on three releases at a time. 2013's version is "pretty far along" and work has commenced on 2014's edition.
R&D priorities for the future include improving VMware's products so that all applications and application vendors are happy running on virtual servers. Herrod said he expects SAP to make some announcements in this area soon.
VMware itself is tweaking its wares to make them speedier, a step Herrod said should make it possible to run VoIP on virtual machines. The ability to do so is not all VMware's work, he said, pointing out that technologies like Single Root I/O Virtualization from Intel help tremendously.
Herrod also said VMware is trying to boost automation, as he wants to "get rid of anything a human needs to do."
"Anything that requires you to go to a spreadsheet, or anything that requires email to be sent back and forth, we are trying to automate that quite aggressively," he says.
Herrod also mentioned "some new investments that are not talked about publicly" including imminent announcements about multi-processor fault-tolerant SMP. ®
Similar topics