iOS App of the Week I looked at SkyDrive back in early 2011 and was impressed by the 25GB of free cloud storage that it offered. Unfortunately, it also suffered from the Microsoft's traditional 'designed by committee' syndrome, and lacked the simplicity of rivals such as Dropbox and, more recently, Apple's iCloud.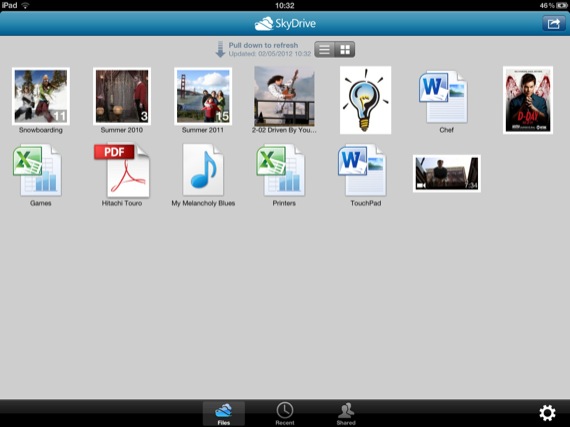 SkyDrive now takes full advantage of the iPad's big screen
With Google now getting in on the act too, Microsoft has decided to overhaul the entire SkyDrive service – including the iOS app that was first released just a few months ago.
SkyDrive now works more like Dropbox. The new client software for PCs and Macs creates a SkyDrive folder on your computer and automatically backs up the contents of that folder to your personal SkyDrive up in the cloud. The contents of that folder are also synced to any other computers that have SkyDrive installed, just like Dropbox.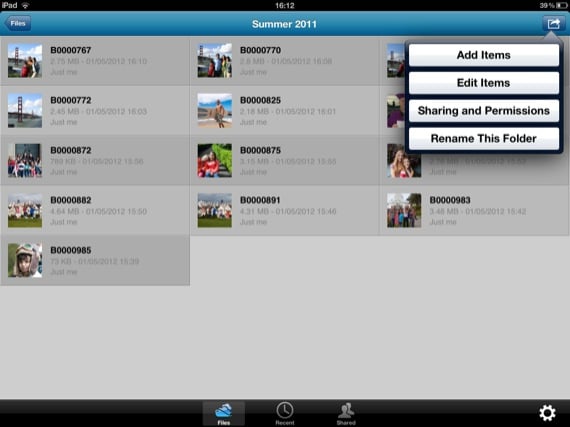 Manage your files
The first SkyDrive app for iOS was quite limited. It allowed you to browse the contents of your SkyDrive and to view individual files – but you couldn't open and edit your files in other apps, such as QuickOffice or Apple's iLife. It was also designed solely for the iPhone.
Both those problems have been corrected in version 2.0. Full iPad support means that the app now provides a much less cluttered view of your files. You'd expect the app to cope with Office file formats, but it also handles PDF files, and I was able to stream a number of audio and video files off my SkyDrive with no problems at all. You can also upload photos and videos from your camera roll to SkyDrive.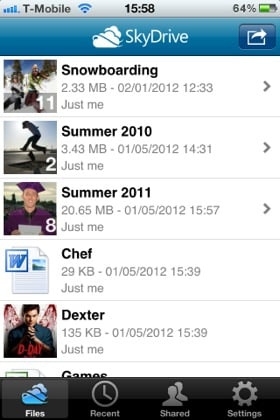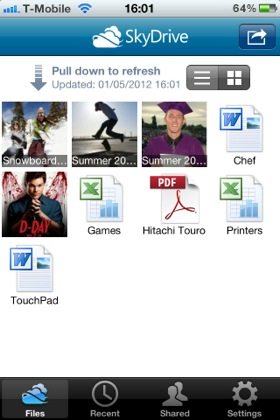 Still works on the iPhone
Even more important is the fact that you can now open and edit documents in other apps too. Unfortunately, Apple's iLife apps don't support either SkyDrive or Dropbox, so edited documents have to be stored locally – but that's Apple's fault rather than Microsoft's. There are apps, such as QuickOffice, that can save to Dropbox, but comments in the QuickOffice forums suggest that the developer is working on adding SkyDrive support too.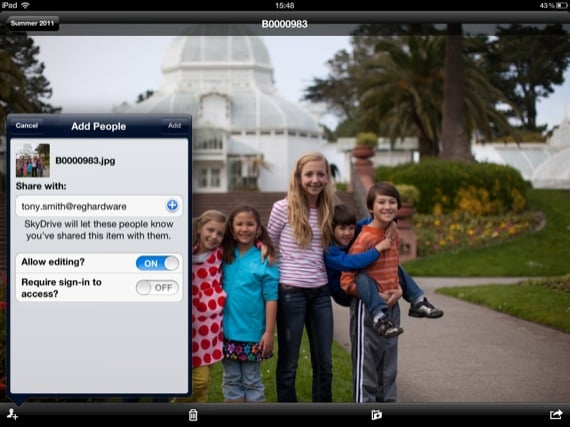 Share files with other folk...
Dropbox might currently have wider support among third-party apps, but there's one area where SkyDrive has a clear advantage. Microsoft has cut the size of your free SkyDrive from 25GB to 7GB, but that's still a lot more than the free 2GB offered by Dropbox. And, of course, you can also pay to upgrade your SkyDrive account, with prices starting at £6 a year for an extra 20GB.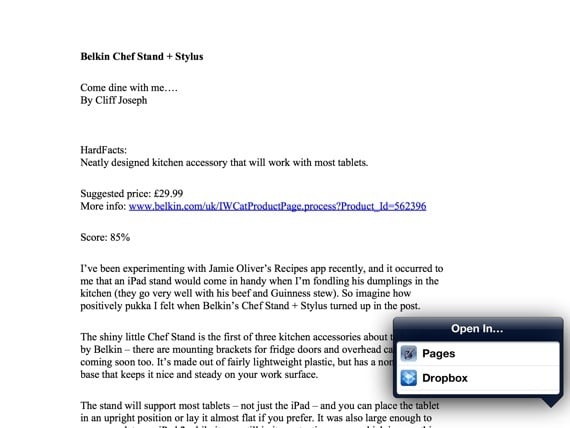 ...or open them in other apps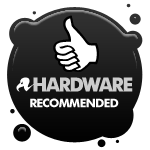 I won't ditch my Dropbox account overnight, but I tip my hat to Microsoft for finally turning SkyDrive into a genuine alternative to both Dropbox and iCloud for iOS users. ®
We make our selection of the best iPhone, iPod and iPad downloads every Thursday. It you think there's an app we should be considering, please let us know.
More iOS App of the Week Winners

SnapGuide
CloudOn
Figure
PowerCam
TopWrite

Microsoft SkyDrive
Brushing up both the app and the service itself, SkyDrive 2.0 emerges as a real competitor for Dropbox
Price:
Free (7GB cloud storage included) RRP
Similar topics