Samsung may be keen to tout OLED as the future of television tech, but it'll be a good few years yet before sales of organic LED screens come to match plasma and even CRT, let alone LCD.
DisplaySearch, a market watcher, this week forecast effectively zero growth for the TV business this year. Shipments of LCD TVs will be up seven per cent, it said, but that increase will be absorbed by an equivalent fall in shipments of CRT and plasma sets.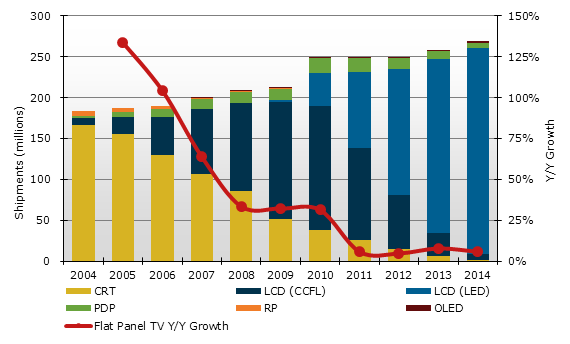 Source: DisplaySearch
DisplaySearch reckons some 250m TVs will ship worldwide in 2012, pretty much the number that shipped in 2011 and, before that, in 2010.
OLED has taken and will continue to take a tiny, tiny slice of those sales - 50,000 sets or less, says DisplaySearch - new sets from Samsung and LG for sure, and Apple maybe, notwithstanding.
Shipments of 3D TVs is growing, but just as LED backlighting technology is replacing fluorescent backlights in LCD TVs, there seems nothing in DisplaySearch's numbers to show that 3D adoption is anything more than a product of the way tellies are made these days. Here, most folk would rather have BBC iPlayer on board than 3D. ®