Pic NASA's Mars Reconnaissance Orbiter has found the wind blows much more fiercely across the surface of the Red Planet than previously thought - reshaping sand dunes at around the same rate as those on Earth.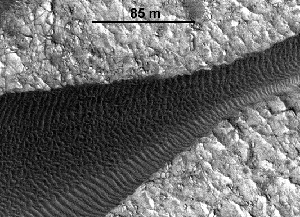 Martian sand dunes rippling. Credit: NASA/JPL-Caltech/
Univ. of Arizona/JHU-APL
Boffins had theorised that Martian dust fields - which can be 200 feet (61 meters) deep - were simply slow moving remnants of features formed by a previous climate; a conclusion reached because Mars has an atmosphere that's only one per cent as dense as Earth's and gales are less frequent and weaker than our planet's.
However, images taken over a two-year period by the orbiter's High Resolution Imaging Science Experiment camera (HiRISE) show the sand whipping across the planet's surface. With entire dunes moving, the scientists can measure the volume of sand and thereby estimate what kind of erosion the sand is causing.
"No one had estimates of this flux before," Nathan Bridges, a planetary scientist at Johns Hopkins University, said in a canned statement. "We had seen with HiRISE that there was dune motion, but it was an open question how much sand could be moving. Now, we can answer that."
"Our new data shows wind activity is indeed a major agent of evolution of the landscape on Mars," said Jean-Philippe Avouac, a team leader at the California Institute of Technology. "This is important because it tells us something about the current state of Mars and how the planet is working today, geologically."
Boffins will be able to use the sand data to figure out why so much of the surface of Mars appears heavily eroded and when that erosion happened.
The study, published in Nature, used images of the Nili Patera sand dune field near the Martian equator. The researchers calculated that if someone could stand in the dunes and measure a one-metre width, they would see more than 1,500 litres of sand blow by them in an Earth year.
Knowing that means the boffins can estimate that rocks in the region would be worn away at about the same pace as rocks near sand dunes in Antarctica. ®