Storage software and hardware provider Quantum Corp is shrinking – not a lot, but it's visible – yet it wants to grow so very much. It has decided to ship Amplidata object storage technology for big data as its latest growth strategy. Will it succeed?
Quantum was an important tape technology vendor, with its own format, drives, autoloaders and libraries. It spent a huge amount of money buying a competitor, ADIC, from which it gleaned the deduplication technology inside its DXi data protection arrays. The tape market declined as businesses backed up data to disk instead of tape, relegating tape to archival storage.
Quantum ditched its own format, joined the LTO consortium, and went into disk-based protection products alongside its Scalar tape libraries and autoloaders, as well as file management with StorNext and virtual machine protection with vmPro. It also has a NAS product line and sells RDX removable disk products.
It had an OEM business, supplying tape and DXi products to vendors like EMC but this is declining and it has made a concerted effort to popularise its own branded products which has been mostly successful, just not enough to fully offset the OEM revenue decline.
For its 2012 fiscal year Quantum's revenues were $652m – this is a large company – with a loss of $9m. Last year saw revenues of $672m and a small $4.5m profit with 2010 seeing $681.4m revenues and a $17m profit; see what I mean about a shrinking company? You would nominally expect profits of $30m to $60m on a $650m turnover.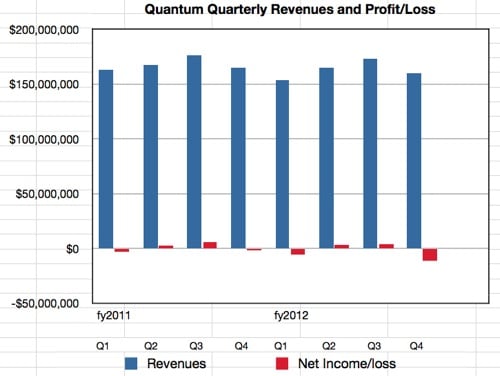 The quarterly pattern of its results exhibits pronounced seasonality, as the chart shows, with a revenue rise from quarter 1 to quarter 3 and then a drop, and a loss in the first and fourth quarters with profits in the middle quarters. So it was in fiscal 2011 and so it was in fiscal 2012: the pattern repeated itself, but with a large loss in the latest quarter – $11m on revenues of $160.3m. Those revenues were 3 per cent lower than a year ago and $13m less than the previous quarter.
If the pattern continues we will see a loss next quarter too. Can Quantum management, led by CEO Jon Gacek, break this pattern?
In the earnings call Gacek mentioned poor results in Asia and Europe for the fourth quarter: "In Asia, this was the first quarter this year where we didn't exceed our plan and the shortfall was across all products. In Europe, like others in our industry, we were below plan overall and had difficulty closing the larger deals ... [W]e did okay in Europe on DXi and StorNext, but we were weak in Enterprise tape. There is no question that our revenue results being at the low end of our range were primarily due to geographic issues."
A new European sales head, Xavier Guerin, has been recruited from EMC Isilon.
He said Xerox had launched a cloud data protection service based on Quantum products, and added, "We believe that our cloud data protection platform is very important to our long-term strategy. To this end, we will be launching our own Quantum-branded cloud data protection offering next quarter."
Headcount-related costs went up in the quarter: "We made a conscious decision during Q4 to increase spending in sales and marketing to get a jump on growing overall revenue in fiscal 2013. The spending was focused on sales team members for StorNext and StorNext appliances, new domestic and foreign expansion territories and channel technical resources in addition to marketing and overall Quantum awareness campaigns."
The ADIC acquisition debt is closer to being paid off: "Finally, at quarter end, we aggressively paid down and refinanced our ADIC acquisition debt. This was a milestone achievement for Quantum. In less than six years, we paid down nearly all of this debt."
Underneath the shrinking revenues and loss, Quantum is seeing its own branded business in disk and StorNext growing. Possibly, if the Asia and Europe geographies had been better, Quantum might have scraped a profit. It looks as if the underlying branded product revenue growth will crossover the declining tape and OEM revenue streams in the next fiscal year. Indeed, Quantum expects fiscal 2013 to exceed $652m, with $680m mentioned, and with around $155m revenues in its first quarter, showing the seasonal drop from fourth to first quarter again.
Looking ahead, Gacek said: "We are projecting that the overall tape market will be basically flat over the next three years, with growth at the storage tier in big data and archive and declines in data protection. Our opportunity in tape is still to grow our share by offering innovative products and having excellent execution over the portfolio."
New dedupe products are also on the way: "This quarter we will be making two significant enhancements to our Enterprise deduplication appliance, DXi8500. We will begin shipping systems with higher density 3TB drives as well as adding high-performance hardware-based encryption technology."
New StorNext appliances will also come. Overall Gacek said: "Looking to fiscal '13, our goal is to deliver total revenue growth each quarter over the same quarter the previous year and grow total revenue overall for the year."
Object storage
Quantum's latest added growth strategy involves supplying Amplidata object technology: a coup for that startup. It will enable big data and analytics customers with petabyte-scale data stores in mind, to manage "big data content by integrating optimised object storage technology into new tiered storage and management offerings."
There will be "new policy-based tiering and data management software in a family of new disk solutions". We can expect a new object storage product range, integrated with the StorNext file management software. Quantum wants to improve the availability and accessibility of long-term big data content while also making its management easier.
It says: "Amplidata's underlying technology includes dispersed data algorithms that provide 100 per cent data accessibility over the extended content lifecycle ... when disks fail, when entire sites have outages, or when customers want to upgrade to newer, denser or more powerful technology."
Quantum's coming products will form "a tier behind its existing offerings for streaming data in the big data content market", and also be "packaged and certified with other market-leading applications to provide a complete managed solution in big data analytics environments".
The first product will be introduced later this year, with Gacek saying: "Our first implementation of this unique technology will be integrating it with Quantum's ... StorNext, and expertise and come out with a new family of Quantum-branded disk solutions."
There will also be a portfolio of cloud services based on Quantum's integration of Amplidata technology.
Quantum says it is building long-term value with its branded products, getting them to work very well together, and expanding into adjacent markets. It takes time to get out from under OEM supply deals and build new revenue streams, especially when the previously core tape backup market collapses, and especially when an OEM – namely EMC – buys its own technology and competes aggressively with you.
Yes, indeed, and fiscal 2013 could finally show Quantum turning the corner and growing again which, after all, is the object of the exercise – and, hopefully, Amplidata will help it do so. ®