This article is more than 1 year old
Monty Python and the Holy Grail on Blu-ray
Your father smelt of elderberries
Are you suggesting coconuts migrate?
Thankfully, the Blu-ray version comes with several new extras – 30 minutes' worth, apparently. There is a bunch of outtakes and extended scenes which, to be honest, are interesting because they are introduced and explained by Terry Jones but they are not particularly amusing in themselves. A somewhat pointless subtitling option, in which the script is replaced by quotes from Henry IV Part II, failed to raise a titter in my household.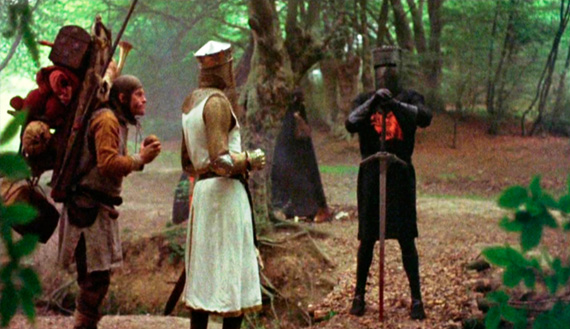 What are you going to do? Bleed on me?
A small gallery of stills has been thrown in, too. But the real treat is a heap of previously unseen Holy Grail animations – a mixture of demos, tests and clips that were cut from the film – with endearingly confused explanations from Terry Gilliam himself. The clips might seem a little repetitive but if you value animation, this is like rediscovering a lost treasure.
If you own an iPad and you're a Python fan, you may already have downloaded the official Monty Python and the Holy Grail app known as The Holy Book of Days. If so, and your Blu-ray player is connected to your home internet router, you can use the iPad app to control playback of the Blu-ray over Wi-Fi. This allows you to skip to particular scenes (on your TV), then pause the film while on you peruse (on your iPad) outtakes, scripts and Michael Palin's diary for those days of the shoot.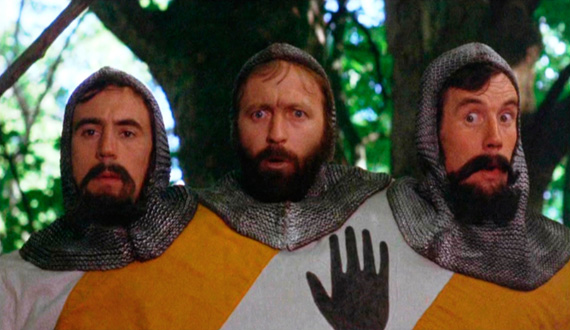 Oh look, he's buggered off
Cynics would call this an obvious cash-in: the app doesn't come free with your Blu-ray purchase. However, I thought it was charming and added to my enjoyment of both the app and the film. Everyone in the house wanted to have a go.
Sony Pictures lists a whole bunch of other extras such as Elephant & Castle and Meanwhile, King Arthur & Sir Bedevere... but they weren't on my disc. Perhaps they were dropped at the last minute and no-one told the PR people. I don't think it's a matter of territories because this Blu-ray has been designated for regions A, B and C, which effectively means you can watch it on any Blu-ray player in the world.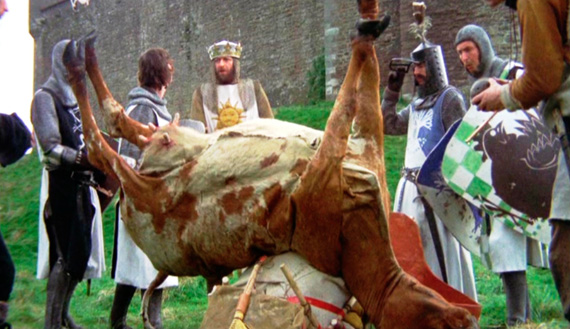 Castle-to-ground missile technology for the medieval Olympics
On a tech note, do not try to play the disc on an external USB Blu-ray player attached to your computer: the copy protection only allows it to be played through video connections such as HDMI. On another tech note, activating the BD Live feature from the disc takes you to an on-line page advertising The Smurfs 3D film. I don't think this is a joke, but that someone simply hasn't got around to pointing the link to something Python-related. Get on with it!
Verdict
For those who absolutely must have everything Python-related, this Blu-ray release adds a few more bits and pieces to your collection. The less fanatical should find themselves satisfied with a copy of the old but first-rate two-disc DVD, which is sold everywhere for a tenner or less. But if you are a Holy Grail virgin (A spanking! A spanking!) or almost-newbie who doesn't already have a decent copy of the film, the Blu-ray version is unquestionably the best with the most complete extras... until the next version comes along. ®
More Blu-ray Movie Reviews…

Aliens
Blu-ray disc set
Akira remastered
Blu-ray disc set
Star Wars:
The Complete Saga
Blu-ray disc set
Jurassic Park
Ultimate Trilogy
Blu-ray disc set
The Lord of the Rings Trilogy
Extended Edition
Blu-ray disc set

Monty Python and the Holy Grail on Blu-ray
Good fun hi-def release with some new extras for Python completists.