Whiptail flashes new kit, launches 72TB storage monster
Little and large
---
Whiptail, the flash array startup from Whippany, New Jersey, has boosted and renamed its XLR8r flash array, and launched a 72TB flash storage monster called INVICTA.
The XLR8r array becomes ACCELA, a brand name reminiscent of New England's high-speed Acela train service, and gets this new stuff:
Random Read IOPS go from >175,000 to 200,000. Random writes stay at 250,000

Sequential writes is listed at 1.9GB/sec – previously it was 2GB/sec.
Whiptail says it is run by the Racerunner O/S and has "protected write buffers and complete VMWare vCenter management, including the industry's first complete implementation of native VAAI". Data protection is via RAID, with levels 0, 1, 5, 6 and 10. The product's flash has a claimed seven-year working life.
INVICTA - Whiptail loves all-caps product names - is a modular, scale-out flash array with two to six nodes. Each node holds up to 12TB of MLC flash and you can start with a 6B node. Performance rises with capacity, and a 72TB box does 650,000 random read and 550,000 random write IOPS, 7GB/sec sequential reads and 5GB/sec sequential writes. Its latency is 200 microseconds. Whiptail claims INVICTA has "the highest sustained write throughput in the industry."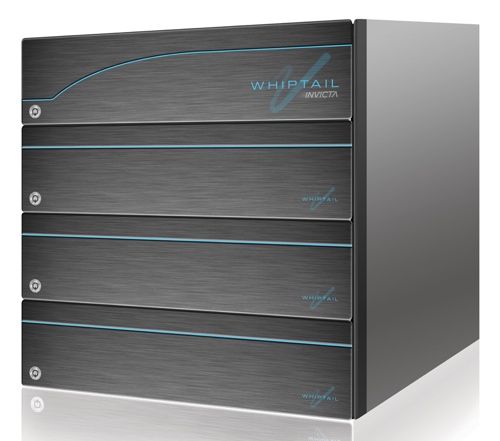 Whiptail Invicta flash array
Like ACCELA, it is a unified storage product, and can have 1 and 10Gbit/s Ethernet, 4 and 8Gbit/s Fibre Channel, and 40Gbit/s InfiniBand interfaces, with Fibre Channel, FCoE, iSCSI, IB SRP, NFSand CIFS supported.
Nimbus Data's S-Class is said to scale from 2.5TB to 100TB and achieve up to 800,000 IOPS and 8GB/sec bandwidth, making it both larger and faster than the Whiptail box.
Kaminario's K2-F is another close competitor, with a 3-100TB capacity range; up to 600,000 random read IOPS; 8GB sequential I/O bandwidth, which is higher than the INVICTA's; 260 microseconds read latency; and 150 microseconds write latency. It has ac16Gbit/s Fibre Channel interface. Neither Whiptail nor Kaminario offer deduplication or compression, a feature of flash arrays from Nimbus Data and startups like Pure Storage.
Kaminario's data protection features include RAID 10HD, which has "striping and mirroring across multiple DataNodes and SSD media", plus snapshots and replication. The K2-F also has no single point of failure. Whiptail INVICTA "data reliability features [include] RAID, LUN mirroring, and write buffering", and asynchronous replication. We could classify the Kaminario unit as an enterprise-class product and the two Whiptail devices as small and medium enterprise products viewed from a data protection point of view.
The ACCELA router unit with 1.5TB of capacity starts at around $50,000. It can be upgraded to an INVICTA node. The INVICTA storage arrays start at around $250,000 for a 6TB unit. Both products are available now. ®