This article is more than 1 year old
Ten... Ultrabooks
Light, fantastic
Product round-up

It took a little while for the production lines to get going, but the first few months of 2012 have seen super-slim Ultrabooks completely outnumbering every other type of desktop or laptop PC coming our way.
Intel's tight definition of the Ultrabook category means that there are certain things you can more or less take for granted – minimum of 5hr battery life, maximum thickness of 18mm for 13in screen models and, of course, a second gen Intel Core processor. Indeed, most of the manufacturers included here have different CPU choices available or in the works. Yet within the tight Ultrabook specification there's still a fair amount of room for manufacturers to experiment.
Thus, we have HP's glass-clad Spectre pushing the size and weight limits on one hand, while Dell opts for carbon-fibre to streamline its XPS 13 on the other. There are even a couple of budget Ultrabooks from Samsung and Acer that will give you a decent chunk of change from a grand. Apple is in here too. You could argue the company inspired the Ultrabook class with its MacBook Air models that are worthy alternatives in this ultraportable arena.
Acer Aspire S3-951

M'learned colleague Dabbsie waxed less than lyrical about the Core i7 version of the S3, but I was more favourably inclined towards this Core i5 model – if only because it's the most affordable Ultrabook I've seen so far. Priced at a relatively modest £670, the S3-951 matches most of its rivals with a 13.3in screen, 1.6GHz Core i5 processor, 4GB RAM and, good heavens, a conventional 320GB hard disk, which helps to explain its lower price.
There are a few other compromises too – the viewing angle could be better, and the speakers are terrible – but if you need an ultraportable laptop that doesn't break the bank, then the Aspire S3-951 is certainly worth considering.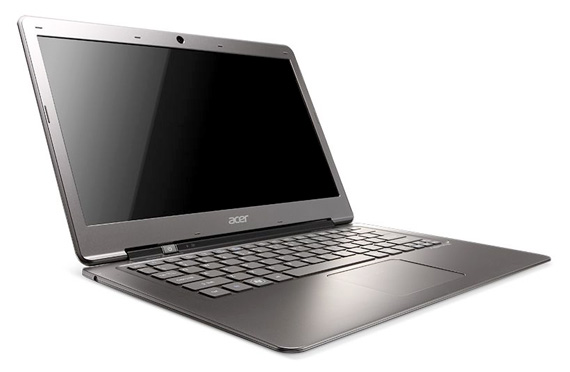 Reg Rating 75%
Price £670
PCMark 7 score 1900 (HDD storage)
More info Acer or SaveOnLaptops
Apple MacBook Air 13in

This is the machine that effectively created the 'ultrabook' category, years before Intel decided to trademark the term. Its slimline design, tapering from back to front, and 1.35kg weight created the template for everyone else to follow. The first few models were definitely overpriced and underspecced, but the current model includes a 1.7GHz Core i5 CPU, 4GB RAM and 128GB SSD for £1099, which makes it much more competitive with its Wintel rivals.
This model also has an SD card slot that its 11in counterpart lacks, as well as Apple's new high-speed Thunderbolt interface – featured on both – which can be used with DisplayPort monitors and new Thunderbolt hard drives. If you're tempted to take the Air, check out Reg Hardware's full review.