Review Tradition dictates that cars look the same from the left as the right. Not Hyundai's new hatchback coupé, though. It has a rear door on the passenger's side but not on the driver's. Clever idea or gimmick? More to the point, will it lure buyers away from the the obvious alternatives, the VW Scirocco and Vauxhall Astra GTC?
From the outset, many readers will suspect the Veloster is a triumph of style over function. But at least it's got style a-plenty. It certainly cuts more of a dash than the Scirocco, even if the Citroën DS-esque cutaways ahead of the front wheel arches are trying a bit too hard.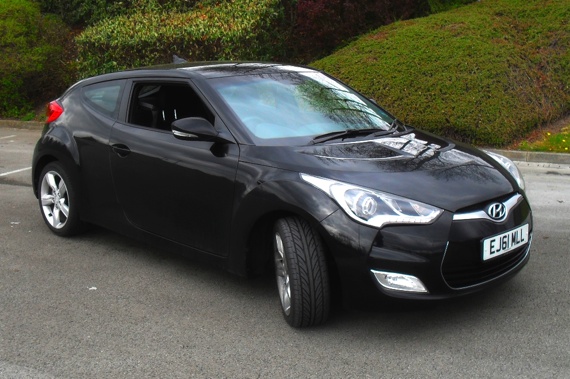 Triumph of style over function?
It's a shape with a far-from-shabby drag coefficient of 0.32 - 0.02 less than the already slippery Scirocco - so all the sculpting does have a practical benefit.
Unless you have a keen eye, the Veloster actually looks the same from both sides, the only tell-tales of the two-plus-one layout are the shut lines of the rear door and the handle built into the angle of the C-pillar. The rear door isn't a suicide type as you'd find on a Mazda RX8 but rather the conventional sort that opens forwards.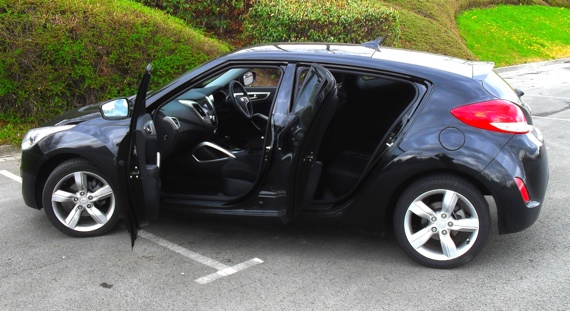 Two doors on the left side...
It opens to reveal a fair old gap too, easily large enough for the large-of-frame yours truly to climb into the rear without any ungentlemanly contortions. If you want a coupé but need to get a someone in the back on a regular basis, the Veloster really is a rather clever answer to the problem of rear entry.
For all the ease of access, though, this is still very much a coupé rather than a family hatch. So headroom is at a premium in the back, making it rather claustrophobic for anyone standing much over 5'6".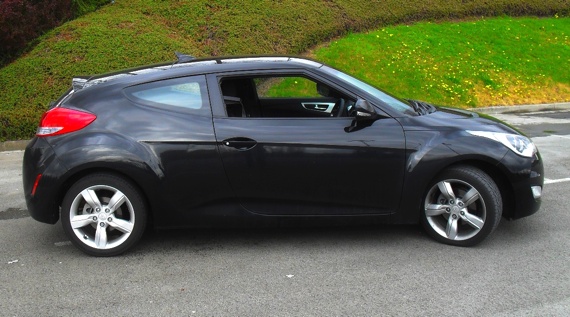 ...one door on the right
The naturally aspirated 1.6-litre four-cylinder engine doesn't quite match the sporty looks. On paper things look fine, with 138bhp and 123lb-ft of torque, but they are delivered high up the rev range, at 6300 and 4850rpm, respectively.