Laptop manufacturers hoping to flog ultrabooks – or, as Intel has trademarked them, Ultrabooks™ – may be able to shave their prices a bit now that AMD has released its second-generation A-Series accelerated processing units (APUs), code-named "Trinity".
AMD promises that its new 32-nanometer, high-k metal gate CPU-GPU mashups, which will supersede the company's current "Llano" A-Series chips, will provide up to 29 per cent more compute power with their new "Piledriver" cores than did last year's A8 3500M mobile chips, up to 56 per cent better graphics performance, and up to 12 hours battery life on a 64-bit Windows 7 laptop.
AMD's global product marketing director John Taylor told The Register that – this time around – the company is also ready to ship the chips in volume.
"One of the only disappointments with Llano was that we didn't have the supply that was wanted as we brought it to market," he said, "and we might have missed out on some opportunities as a result. With Trinity we've already shipped millions to OEMs who are already lining up to bring those products to market, and supply will not be an issue."
The first Trintiy-based laptops, including models from HP and Samsung, will be out shortly, with desktop systems released in June and consumer parts opened up to the retail channel later in the summer. Taylor confirmed that pricing will be lower than that for equivalent Intel Ivy Bridge processors, particularly with high-end chips, and that the Trinity chips' suitability for thin form-factor machines will make them perfect for the Ultrabook-style devices Intel is pushing.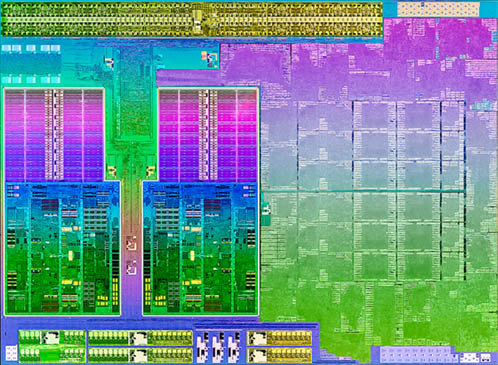 Trinity urges you to take the red pill
AMD is playing heavily on the graphics capabilities of the new processors, addressing the company's traditional gaming market, and focusing on visuals to drive consumer sales. With an eye on creatives, AMD is also working closely with Adobe to optimize their apps for the Trinity chips, pushing rendering speeds to over three times faster than with similar Intel architectures – or so they claim.
"We've put a mid-range discrete GPU down on the die, so we're coming from a different direction than Intel," Taylor said. "We have built in better graphics – there's just no getting around it."
AMD has also put in development effort with the popular open source VLC media player, incorporating plug-ins for AMD's Steady Video technology designed to minimize the shaking common with user-generated video. Steady Video plug-ins are also being provided for Internet Explorer, Firefox, Chrome, and Windows Media Player.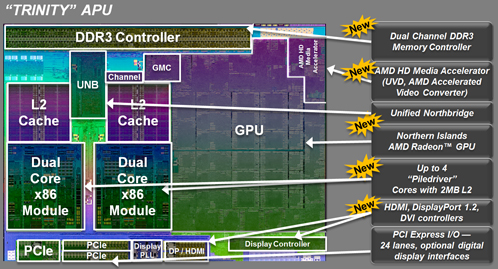 Take another look at Trinity, this time with its innards labeled (click to enlarge)
This advanced graphic goodness does come at a price however: power. The 35 watt quad and dual-core mainstream notebook members of the Trinity A-Series may be more power efficient than were the 45 watt Llano chips, but they fall behind current comparable Intel kit on efficiency when running YouTube and HDD video viewing.
That said, the new A-Series also includes a quad-core 25 watt chip and a dual-core variant that slots into the 17-watt sweet spot for laptops that Intel calls Ultrabooks and AMD calls "ultrathins". ®