This article is more than 1 year old
Greenpeace targets Apple with 10-foot Pod stunt
Fanbois drool over prospect of iOS-based home
Silicon Valley cops arrested two Greenpeace activists who sealed themselves into a huge (i)Pod outside Apple HQ today, but chose not to cuff another bunch of activists who were dressed as giant iPhones.
Greenpeace has been chastising the Mac and iOS firm for the last few years for not exactly being the freewheeling, earth-friendly, slightly hippie firm that many seem to think it is.
Today's stunt was designed to highlight Greenpeace's accusations that Apple is powering its iCloud offering using filthy coal-based power instead of some kinda clean energy – the eco-minded folk are apparently not mollified by the 100-acre solar-power installation at Apple's ginormous Maiden, North Carolina, data center.
Greenpeacers kicked off the day by laser-beaming messages onto the HQ calling on Apple to embrace clean energy. Eventually, this was kiboshed.
However, other activists hit Apple where it really hurts: plonking a ten-feet wide, white pod complete with Apple logos outside the HQ. The "survival device" was previously used in arctic drilling protests. Clearly the eco-warriors reason that the prospect that fanbois will think this monstrosity is an actual prototype will quickly bring Apple round to Greenpeace's point of view.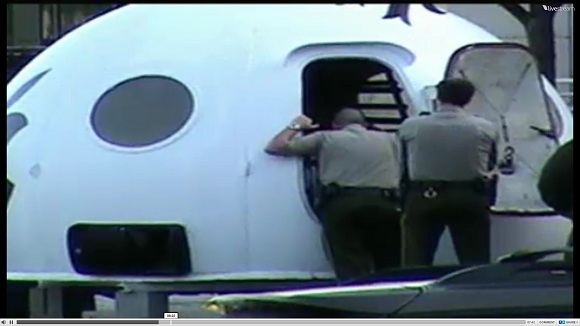 But where does the music come from?
"Apple's executives have thus far ignored the hundreds of thousands of people asking them to use their influence for good by building a cloud powered by renewable energy," said Greenpeace bigwig Phil Radford in a statement. "As Apple's customers, we love our iPhones and iPads, but we don't want to use an iCloud fueled by the smog of dirty coal pollution."
Brandy Palm, blogging from inside the eight-feet tall pod, declared: "This is an incredibly important issue for me personally. I use Apple products every day, just like millions of people around the world. I use my iPad every day in school, just like the one I'm using right now in this pod. It helps me in everything from taking notes, helping me to study for my tests (or even distracting me from class every once in a while.) My iPhone helps me connect with my friends."
Presumably that same iPhone might at this very moment be connecting Brandy to an attorney. After a certain amount of faffing about, Santa Clara cops cracked open the pod – an easier feat than opening an actual Apple device, it seems – and arrested Brandy and a fellow activist. They were in custody at time of writing, and Greenpeace was not clear on their status.
Curiously, the cops did not round up the iPhone-garbed helpers. We suspect this maybe because they're wary of getting dragged into another lost Apple prototype row. ®