The successful test launch of the hydrocarbon-fuelled scramjet HIFire 2 by the US brings mankind a step closer to practical travel at over five times the speed of sound.
Reliable hypersonic transportation could revolutionise trips to space and across the globe, but sustained flight at such speed is difficult: several test launches recently ended in flaming obliteration.
But NASA and the US Air Force Research Lab pulled off a significant hypersonic jet launch from the Hawaii-based missile range on Friday. The HIFiRE 2 jet accelerated from Mach 6 to Mach 8 (4,567 to 6,090 miles per hour; 7,350 to 9,800 km per hour) and flew for 12 seconds at the top speed.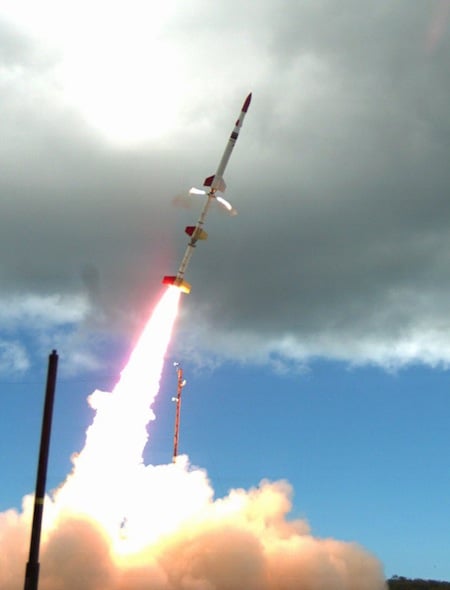 A HIFire launch. Credit: AFRL
The three-stage launch system fired correctly, and the test was hailed as a stunning success.
It's not the fastest ever hypersonic flight - speeds of Mach 10 have been achieved - but it is the first jet flight to go that fast using hydrocarbon fuels rather than hydrogen.
Hydrogen fuel provides more energy than hydrocarbons, but is less dense, harder to store and more expensive.
The super-fast sound-beating jet was packed with measuring equipment from NASA and the Air Force, and the data from the flight will be ploughed into more research in the area, including making scram engines work with onrushing air entering the engines at supersonic speeds - a challenge previously described as trying to light a match in a hurricane.
"This is the first time we have flight tested a hydrocarbon-fuelled scramjet accelerating from Mach 6 to Mach 8," said NASA hypersonics project scientist Ken Rock, based at the agency's Langley Research Centre. He added:
At Mach 6 the inlet compression and combustion process was designed to reduce the flow to below Mach 1 - subsonic combustion. But at Mach 8 flight the flow remained greater than Mach 1 or supersonic throughout the engine. So this test will give us unique scientific data about scramjets transitioning from subsonic to supersonic combustion - something we can't simulate in wind tunnels.
The HIFiRE 2 flight was the fourth in a series of ten experimental launches exploring hypersonic flight. ®