The long and sordid Psystar saga creaked to its anti-climactic close on Monday: the US Supreme Court has refused to hear the hackintosher's request to review an appeals court's September 2011 decision not to overturn a December 2009 permanent injunction preventing the Florida company from selling Mac OS X–based clones.
"We are sad," said Psystar attorney K.A.D. Camara in an emailed statement, Computerworld reports.
Channeling the vision of the great ballpark philosopher Lawrence Peter Berra, who famously said "It ain't over 'til it's over," Psystar left no legal stone unturned in its efforts to keep selling the Mac clones it first unveiled four years and one month ago.
But when the US Supremes say it's over, it is, indeed, quite decidedly over – and when Psystar Corp. v. Apple Inc. appeared with 282 other petitioners in the court's "Certiorari Denied" summary disposition this Monday, the clonemaker and T-shirt vendor ran out of options.
We won't recount all the details of Psystar Corp. v. Apple Inc. – those Reg readers who are new to the case or simply want to take a stroll down litigious memory lane can do so here. In a nutshell, however, Apple sued Psystar in July 2008 to stop the hackintosher from selling its "OpenMac" clones – which, by the way, were quickly redubbed "Open" and "OpenPro". The next month, Psystar announced that it would take legal action against Cupertino, alleging – among other things – that Apple's end-user licensing agreement was in violation of antitrust laws.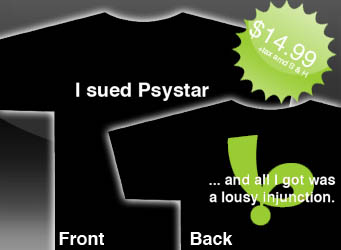 In late 2009, Psystar was reduced to selling T-shirts to help pay its legal bills
The past four years have seen a war of legal filings and court decisions, with Apple winning the big battles and Psystar managing to gain the upper hand in a only skirmish or two. Now, however, fans of David-and-Goliath legal soap operas will need to find another storyline to latch onto.
May we suggest the Chinese iPad-trademark dispute between Apple and Proview Technology? Although there were reports last week that a settlement was being discussed, and although a US court recently threw out Proview's claims that Apple's acquisition of the trademark was fraudulent, there may be plenty more months – years? – of legal meanderings in the offing.
Perhaps Proview might drop K.A.D. Camara an email. After all, he has one fewer case taking up his billable hours these days. ®
Similar topics