VMware puts on new vFabric suite, takes your database on a date
Virty giant gets flirty with PostgreSQL
VMware pretty much owns the virtualization layer on X86 iron inside of enterprises, but it has a long way to go to get the same kind of uptake for its vFabric application framework.
Just as it did when it turned the bare-metal ESX Server hypervisor into a server virtualization stack and then a cloudy infrastructure ubertool, the company is transforming the Spring framework it acquired three years ago by rolling all kinds of components into it – to create the vFabric Suite.
The Spring framework is an open-source platform for running Java applications that VMware is beefing up, and it is not to be confused with Cloud Foundry, an open-source platform cloud that mixes up the RabbitMQ messaging service with MySQL, Redis, and MongoDB data services and frameworks for Java and Ruby applications.
With vFabric Suite 5.1, which debuts today, VMware is adding a database to the stack, in this case VMware is taking the open-source PostgreSQL database that it launched as vFabric Postgres last August as the first instantiation of vFabric Data Director, a tool to expose and manage database services for the Spring framework, and which will eventually support other databases.
To create vFabric Postgres, VMware grabbed the open-source PostgreSQL 9.1 database and packaged it up as an ESXi hypervisor guest image that has been optimized to take advantage of the CPU and memory scaling of the hypervisor and to allow admins to create linked clones of VMs with databases inside of them that automagically update through vSphere as the gold image changes.
As a standalone product, vFabric Data Director costs $600 per VM under management per year. The Postgres database that runs inside of it, as the engine of the database service, is free for developers but if you put Postgres into production, then you had to pay $1,700 per VM per year.
This is not particularly pricey for a commercial database, but it is not exactly cheap either. And so VMware is adding the Postgres database to the vFabric Suite and making it easier to consume and more palatable for users to put into production.
With vFabric 5.0 Standard Edition announced in June last year, VMware charged $1,200 per VM for a supported version of its vFabric stack, which included the Spring framework, an Apache web server, Hyperic server monitoring, the tc Server Spring edition Tomcat app server, the GemFire application cache (with session and Hibernate caching), and elastic memory for Java.
The vFabric 5.0 Advanced Edition added in the RabbitMQ messaging broker as well as the SQLFire Professional Edition in-memory distributed variant of that GemFire transactional database, which has JDBC and ODBC.NET links into it. This cost $1,800 per VM per year.
With vFabric Suite 5.1, the word "suite" is being added and so is a price increase to cover some extra features tossed into the bundles. The elastic memory for Java module now works for the raw Apache Tomcat server as well as VMware's own tc Server riff on it. The Standard Edition also includes something called vFabric App Performance Manager, which mashes up the Hyperic tools with AppInsight tools that VMware put out last fall.
The other big change is that if you want to use the raw Apache web, Apache Tomcat app, or RabbitMQ messaging servers instead of the Spring-tweaked versions, now you can. Dave McJannet, director of vFabric product marketing at VMware, tells El Reg that several companies want to do ­just this.
While VMware will provide tech support for the open-source Apache and Tomcat in the vFabric Suite 5.1 Standard Edition, it will not patch those open-source tools as it does for its own tweaked versions. You have to keep the code updated yourself. With this extra support, VMware is now charging $1,500 per VM per year for Standard Edition, which is a 25 per cent price hike.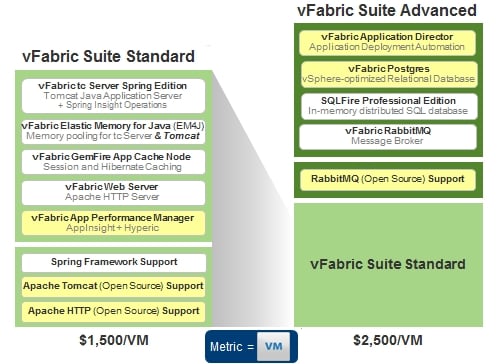 The components of VMware vFabric Suite 5.1
With vFabric Suite 5.1 Advanced Edition, you get vFabric RabbitMQ or the open-source RabbitMQ; plus the SQLFire Professional Edition in-memory database; vFabric Postgres; and the vFabric Application Director application deployment tool, which is basically the same thing as the standalone vFabric Application Management Suite that was announced last October.
This includes vFabric Application Performance Manager, a monitoring tool that would have cost you $360 per VM per year, and vFabric Application Director, which was due this year and which was not given pricing.
Now, you get all of this stuff rolled up into one, for $2,500 per VM per year. That's a 39 per cent higher price per VM than vFabric 5.0 Advanced Edition last year, but it is considerably lower than the $3,860 you would have paid for the stack – not including whatever pricing VMware would have put out for vFabric Application Director. So in a sense, customers are getting a price break.
One more thing. vFabric Suite 5.1 Advanced Edition includes only the Professional Edition of the SQLFire distributed database, which is based on GemStone. In addition to launching the new vFabric Suite, VMware is also announcing that the JDBC and ODBC.NET interfaces for SQLFire are now being made available in the Enterprise Edition for the first time. The Professional Edition, says McJannet, can scale to a few VM nodes, while the Enterprise Edition scales to many dozens of nodes. ®