Dell feeds Xeon E5s to hungry new PowerEdge beasts
Cheaper duos and quads, so we hear
---
Dell has added nine new Xeon E5-powered boxes to its PowerEdge 12G lineup as it chases the booming market for quad-socket machines in Asia.
These latest workhorses use Intel's new Xeon E5-2400 processors for two-socket servers and the E5-4600 for four-socket servers, and will add to the five rack, tower, and blade servers and one C6220 cloudy box that Dell announced in February before the Xeon E5-2600 launch.
Rather than jump the gun on Intel again, Dell waited until the chip giant actually launched the silicon to talk about the nine new machines that will ship in May and June. And the theme behind most of the new machines is the same: increased density, whether it is a rack, a blade, or a tower box.
There are three new PowerEdge racks, three new blades, and two towers. Let's do the racks first because these are the volume products in the X86 server racket these days: they are the PowerEdge R320, R420, R520, and R820, with the first three based on the Xeon E5-2400 and the latter one based on the E5-4600.
The PowerEdge R320 is a single-socket rackable 1U box that also supports the Xeon E5-1410 and the Pentium 1400 series. The server is based on the "Patsburg" C600 series chipset, like all Xeon E5 machines are, and it comes with six memory slots for a maximum of 96GB of main memory if you splash out on 16GB DDR3 memory sticks. The machine has one x16 and one x8 PCI-Express slot, and presumably these are 3.0 slots matching the peripheral controller on the E5-2400 chip. (The spec sheet from Dell is not explicit.) The R320 12G machine has room for four 3.5-inch disks or eight 2.5-inch disks and has an embedded Broadcom dual-port gigabit Ethernet interface on the mobo.
The PowerEdge R420 12G machine is a two-socket box that double-stuffs the 1U rack chassis with Xeon E5-2400 CPUs. It uses the same C600 chipset, and has a dozen memory slots for a total of 192GB of RAM using the top-end 16GB DDR3 memory sticks. The PCI-Express 3.0 slots vary depending on how many CPUs you put in the box. With one CPU, you get one x8 (with x4 of bandwidth) and one x16 slot, but with two CPUs, you get two full-on x16 slots; you have the same disk options and dual-port Ethernet on the board that the R320 12G has.
With the PowerEdge R520 12G, you get a two-socket mobo with the same CPU and memory options of the R420 12G in a 2U rack chassis and then let it have some more peripheral slots and disk expansion. So you have the same 192GB RAM max across a dozen memory slots and dual-port gigabit Ethernet ports. But now you can have up to eight 3.5-inch disks; the spec sheets say it supports 2.5-inch disks but does not say how many, so we presume it is sixteen. With both processors in the box and both PCI-Express 3.0 controllers fired up, you get four x16 slots, one running at the full x16 speed and the other three with x8 bandwidth.
Brian Payne, executive director of PowerEdge marketing at Dell, told El Reg that the R420 and R520 machines are only 24 inches deep instead of the 29 inches or 30 inches of depth that a typical rack server has. This means they can be used in a variety of telecommunications and military applications where racks tend to be more shallow because physical space in data centres in scarce.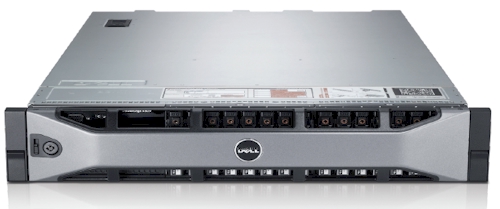 Dell's PowerEdge R820 four socket racker
The PowerEdge R820 12G machine keeps the same 2U chassis, but crams four of the E5-4600 processors into the machine and sports up to 48 DDR3 memory slots for a maximum of 1.5TB of main memory using 32GB sticks. Dell supports up to sixteen 2.5-inch drives on this machine (but no 3.5-inch drives apparently) and a variety of embedded network controllers that snap into the mobo, including a dual-port Broadcom gigabit, a quad-port Intel gigabit, a dual-port Intel 10GBaseT, and a dual-port Broadcom 10-gigabit SFP+ with two gigabit ports on it as well.
Payne said the PowerEdge R820 12G is ideal as a database engine and he expects a strong uptake for server virtualization as well. The R820 has been shipping to early adopter customers for some time now, but not on the scale of the early shipping that Intel did with the E5-2600s last autumn and early winter.
Officially these four rack servers will start shipping in May, but none of the pricing and exact feeds and speeds for processor options are available yet. These new PowerEdge rack machines support Microsoft's Windows Server 2008 R2 SP1 as well as Small Business Server 2011, Red Hat's Enterprise Linux, and SUSE Linux's Enterprise Server; Microsoft's Hyper-V, Citrix Systems' XenServer, and VMware's ESXi hypervisors are also supported on the machines.
Blades still cut it for some customers
Dell has three new blade servers for its M1000e chassis that come out today using Intel's latest Xeon E5 chips.
The most interesting of them, and one that brings Dell to the same level of server density in its blades that rival Hewlett-Packard has been offering for some time with its SL-6500 modular servers, is the PowerEdge M420 12G. This is the quarter-height blade that Dell was brandishing back in February in wave one of its PowerEdge 12G launch. (Today is technically known as wave two, and it is about bringing "value priced" two-socket and four-socket boxes out.)
The M420 slides into the M1000e chassis and you can stack them up four high and eight wide for a total of 32 two-socket E5-2400 blades in the 10U chassis. That's up to 2,048 cores in a rack.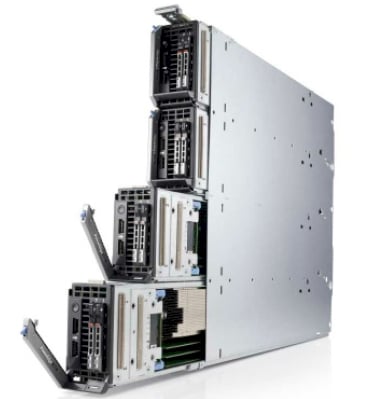 Four Dell PowerEdge M420 blades in a pod
The M420 server blade has two processor sockets and it is not clear what E5-2400 SKUs are supported in the blade yet. The blade has six memory slots, for a top memory capacity of 192GB per node using 32GB memory modules. Each blade has two USB ports on the front and two slots for hot-plug 1.8-inch SATA SSDs that come in either 50GB or 200GB capacities. The M420 has a slew of mezzanine card options to support links to gigabit Ethernet, 10GE, InfiniBand, and Fibre Channel switches. The most important stats for networking is that this blade can have four 10GE ports or one 56Gb/sec FDR InfiniBand port.
The M520 blade takes up a normal half-height, single-wide slot in the M1000e chassis and is also a two-socket machine based on the E5-2400, but has a dozen memory slots and a maximum of 192GB of capacity using 16GB DDR3 sticks. This blade uses the normal 2.5-inch SAS and SATA drives and SSD options in the PowerEdge line. It has a mix of Ethernet and Fibre Channel mezz cards, including 10GE cards that support Fibre Channel over Ethernet, but interestingly, the M520 does not offer an InfiniBand mezz card. (Go figure.)
Both the M420 and M520 12G blades will be available in May and support the same OS and hypervisor mixes as the rack servers above. As with the rack machines, Dell has not put out pricing yet, even though it is taking orders.
The PowerEdge M820 won't start shipping until June, and it is a full height, four-socket blade that employs the Xeon E5-4600 processor. Like its R820 brother, the M820 sports 48 memory slots, for a total of 1.5TB of main memory if you use the fattest DDR3 sticks. It has room for four 2.5-inch disks or SSDs, and can also have two Express Flash flash modules that link into the PCI-Express 3.0 bus on the server. And perhaps importantly for HPC and database cluster customers looking for fat nodes in a blade form factor, the M820 has InfiniBand mezz cards (DDR, QDR, and FDR speeds are available) as well as the usual 1GE, 10GE, and Fibre Channel cards. You can't run Small Biz Server 2011 on this one, but Windows Server 2008 R2 SP1, RHEL 6, and SLES 11 can run on it, as can the usual hypervisor suspects (minus Red Hat's KVM).
Tower of power
That leaves the two entry tower machines based on the Xeon E5-2400 processors in wave two of the PowerEdge 12G rollout: the T320 and the T420.
As you might expect from the naming conventions, the PowerEdge T320 tower server is similar to the R320 in terms of its basic feeds and speeds, supporting a single E5-2400, E5-1410, or Pentium 1400 processor, 96GB of max memory, and linking to the outside world through the C600 chipset. But the T320 12G server has more IO expansion with five PCI-Express 3.0 slots:­ one x16, three x8 slots with x4 bandwidth and one x8 slot with x1 bandwidth. The machine has room for eight hot-plug 3.5-inch or sixteen 2.5-inch drives and has a dual-port gigabit Ethernet NIC on the mobo.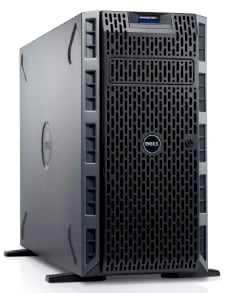 Dell's PowerEdge T320 and T420 towers
The T420 is a two-socket mobo based on the E5-2400 slipped into the same chassis, with 192GB of max memory and six PCI-Express 3.0 slots: two x16 slots and four x8 slots (with geared down bandwidth on all of the x8 slots). The T420 has the same disk and network options and from the outside you could not tell the difference between the two machines.
Both of these E5-2400 tower machines are positioned as workstation alternatives with optional Quadro 4000 or 6000 series discrete graphics cards, and therefore compete somewhat with Dell's Precision workstations.
When Dell gets pricing information out, we'll circle back and see what this stuff costs. All that we know right now is that the machines are "value priced" compared to the E5-2600 and E7 alternatives, but doesn't really help that much. ®