The Incredible 4PB Hulk: EMC monsterises VMAX
Last big primary data array push before flash tsunami
EMC has gained top datacentre dog bragging rights with a coming 4 petabyte VMAX 40K storage array, storing 60 per cent more than HDS's biggest VSP array and 74 per cent more than IBM's DS8000. This is possibly one of the last massive primary data arrays before flash takes over the primary data storage universe*.
EMC says its newest array is the industry's highest-performance, highest-capacity storage system. It's designed for the hybrid cloud and demanding enterprise data centres. According to our sneak peak there will be three new VMAX models with the 40K at the top, followed by the VMAX 20K, a renaming of the current top-end VMAX, and the VMAX 10K – a renamed VMAXe, the entry-level one.
The basic numbers:
a VMAX 10K can have up to 1,080 drives and 1.5PB;
a VMAX 20K can have up to 2,400 drives and 2.06PB; and
a VMAX 40K can have up to 3,200 2.5-inch drives and 2.8PB or an estimated 2,000 (2TB) 3.5-inch drives and a certain 4PB of usable capacity.
For comparison, IBM's DS8000 can store up to 2.3PB using 1,536 drives. HDS's VSP can hold up to 2.5PB with 1,280 3l.5-inch drives or 1.2PB with 2,048 2.5-inch drives. HP OEMs the VSP technology for its P9500 array which only supports 2.5-inch drives. EMC is telling its sales reps that when a VMAX 40K is proposed to customers, HDS, HP and IBM will have to respond with two of their top-end arrays to match the capacity and overall performance of the 40K.
VMAX hardware
VMAX arrays have a Virtual Matrix interconnecting the controller engines – up to eight of them – and the drive bays. The 20K has a dual virtual matrix whereas the 40K has a quad one, doubling the internal bandwidth in effect.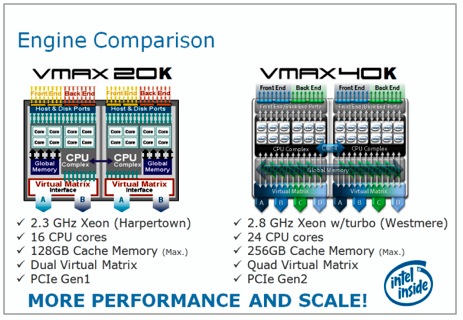 VMAX 20K engines are powered by 2.3GHz Harpertown Xeons with 16 cores available and a PCIe gen 1 bus. The 40K uses 2.8GHz Westmere processors with 24 cores and a gen 2 PCIe bus – so it's much meatier.
We understand that the 40K, compared to the 20K, has:
twice the bandwidth for cache miss I/Os per second (IOPS), providing twice the performance for high-bandwidth Big Data applications; and
twice the cache memory for enhanced dynamic cache partitioning expansion (up to 16 partitions).
There is no change to basic front-end port connectivity protocols with Fibre Channel, FICON (though not on the 10K), 1 and 10GbitE, and FCoE and iSCI available, but we imagine that 16GBit/s Fibre Channel is either on the list or coming.
VMAX 40K density
There can be high-density or dense VMAX 40K configurations using 2.5-inch SAS drives or standard configurations with 3.5-inch drives. In the latter case, an EMC document we have seen states "a fully loaded VMAX 40K dense option can support up 2.8 PB in eight storage bays with 3,200 (2.5-inch) drives".
Compared to an equivalent VMAX configuration, the dense VMAX 40K has:
33 per cent more drives (spindles),
takes up 33 per cent less space,
weighs 35 per cent less and
uses 27 per cent less power.
The systems bays in either a dense or standard VMAX 40K configuration can be separated by up to 25 metres (82 feet) to spread the weight across the floor or to get around obstacles such as ceiling columns in the data centre.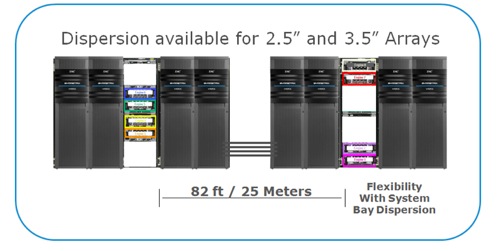 VMAX 40K dispersion
The new VMAXes come with v5876 of the Enginuity operating system, which will also run on existing VMAX systems.
New version of Enginuity
Enginuity 5876 supports the consolidation of third-party storage arrays behind VMAX 20 and 40Ks with a Federated Tiered Storage (FTS) feature. EMC says "Federated Tiered Storage has full data integrity and validation checksums to ensure that Symmetrix VMAX checks any data written or read from external arrays". It also says this is "a key differentiator that can help displace competitive storage in customer environments... [W]ith Federated Tiered Storage and FAST VP (Fully Automated Storage Tiering - Virtual Pools), customers can use external arrays as a lower tier in a FAST configuration, automatically placing data on Symmetrix VMAX for higher performance."
FAST VP gets SRDF, EMC's asynchronous or synchronous replication facility, awareness to increase array performance in disaster recovery situations. The new version of Enginuity also provides virtual provisioning in IBM System z (mainframe) and IBM i environments. This "automatically balances the workload by wide-striping data across all devices in a virtual pool". FAST VP is also made available in these two IBM environments, EMC says this should provide dynamic performance optimisation in System z environments and increased efficiency in 512-byte IBM i deployments.
The new VMAX arrays can be managed with Unisphere, which is also used for EMC's mid-range VNX arrays. EMC claims VMAX Unisphere "has significant benefits over EMC Symmetrix Management Console and EMC Symmetrix Performance Analyzer. Symmetrix VMAX customers can provision, manage, and monitor Symmetrix VMAX arrays from one screen to significantly reduce storage administration time."
Back-end configuration
The latest Enginuity software features dynamic back-end configuration with system calls used to modify specific configuration items instead of microcode loading. This shrinks the system lock duration involved in such changes. More concurrent configuration changes can take place in a reduced maintenance window with less disruption. Such changes can include:
adding and removing drives,
adding and removing RAID groups,
adding and removing logical volumes,
VLUN migration operations and
adding and removing static RDF pairs.
The VMAX 40K and 20K have the RecoverPoint splitter integrated into the array, meaning they can replicate to heterogeneous arrays. The 10K has SRDF features added enabling it to replicate to 20K and 40K in SRDF configurations. It supports 3-site cascaded and concurrent configurations and a star configuration. All the new VMAXes have snapshot capability through TimeFinder VP Snap.
EMC states:
TimeFinder VP Snap provides the efficiency of snap technology with improved cache utilisation and simplified pool management. These benefits can help eliminate negative messages that IBM XIV and 3PAR sales teams may attempt to instill in Symmetrix VMAX 10K prospects' minds.
EMC Competition
The VMAX 10K is positioned to compete with the HP 10000 (3PAR) and IBM's XIV. IT can also compete with scaled down VSP arrays and IBM DS8000s. The 20K competes with loaded HDS VSP arrays and loaded DS8000s.
EMC describes the 40K as an industry leader:
Competitors will have no choice but to bid TWO of their arrays to compete with larger VMAX 40K configurations, a competitive disadvantage that increases footprint, acquisition costs, and operational complexity.
EMC is claiming to be top data centre dog and slamming competing arrays into subordinate performance tiers that its lofty VMAX 40K can use, via FST. As far as EMC is concerned, this means customers can now eke the last bit of storage use out of these in-place assets before they come to their end-of-useful-life and get retired. ®
* Although VMAX can use flash solid state drives it has been designed as a disk-drive-based array and newer flash array designs get more cost-effective use out of their flash capacity than an all-flash VMAX will.