Facebook starting to go big in Brazil. Hmm ...
Plus: Monaco and Iceland have more accounts than people
---
Facebook's user base is plateauing across Europe and the US and the site has seen losses as well as gains in the developing world, the latest statistics from Social Analytics firm Socialbaked show.
Facebook membership increased by 0.88 per cent in the US in the last six months and by 1.52 per cent in the UK. By contrast, the number of Facebook members in Brazil shot up by 54 per cent. A 50 per cent population penetration* seems to be where Facebook usage levels off: the US has 50.72 per cent* Facebook penetration and the UK has 49.63 per cent*.
A handful of countries have higher Facebook penetrations than that, 64 per cent* of UAE citizens have a Facebook account for example, and notably both Monaco and Iceland have more Facebook accounts than people, according to the statistics Monaco (124 per cent) and in Iceland (104 per cent).
The global trend is that Facebook's member base is increasing, and is likely to pass the 1 billion mark soon. The site logged 901 million total active users in April.
But as Facebook's pre-IPO April filing showed, the new users that the network is adding aren't easy to monetise. This is because the newer users are mostly in poorer countries, and the cost of these new members has actually dragged operating profits down.
The social network has also seen significant growth in India and Japan: as this graph by Pingdom shows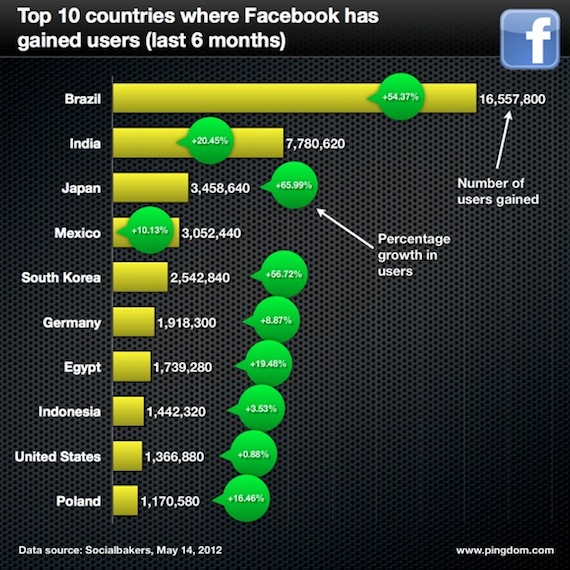 But despite the prevailing trend, Facebook has lost users in some countries too: 16 per cent of Puerto Rican Facebook users deleted their accounts in the past six months, for example.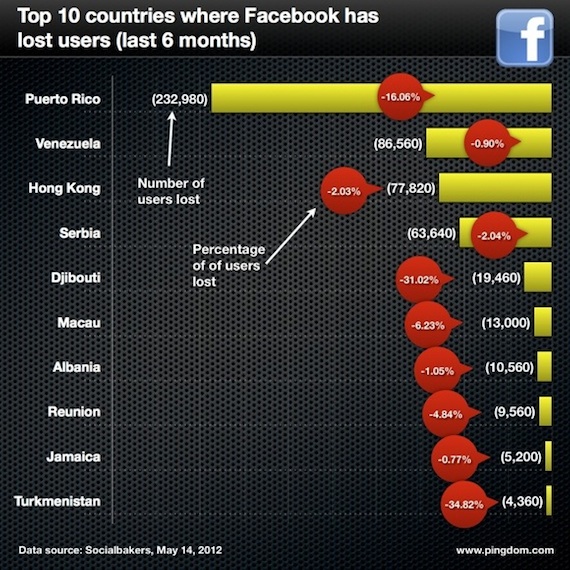 The changes could be down to local rivals (we notice flirting app Skout has "exploded" in Puerto Rico), legislative moves (Turkmenistan for example seems to have banned Facebook) or some other local factor.
London is the world's fourth most-concentrated nexus of Facebook users, below only Bangkok, Jakarta and Istanbul: with 6,139,180 accounts registered in the city, equal to 78 per cent of number of population*. ®
* If one disregards multiple accounts held by the same user.