Hitachi GST releases skinny spinner
Slim slow slider
---
Western Digital's latest acquisition, Hitachi GST, has released a skinny single platter drive for consumer electronics devices.
The CinemaStar Z5K500 is a 7mm thick disk drive featuring 250GB, 320GB and 500GB capacities, with a maximum areal density of 630Gbit/in2, a 32MB cache, a 6Gbit/s SATA interface and a 7,200rpm spin speed.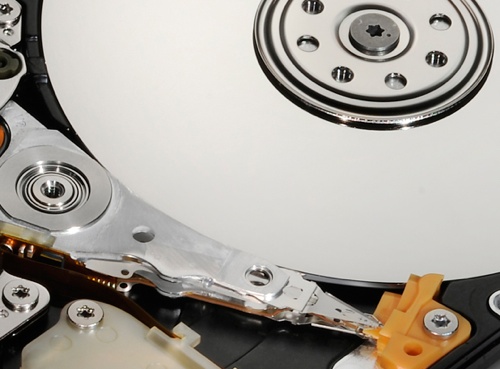 Head detail of Hitachi GST Z5K500
Hitachi GST says the drive is intended "for slim TV integration, and high-performance multi-tuner DVRs and STBs that let you stream, record and watch programming at the same time". It claims the power draw is as low as 1.4W during read/write operations and the drive emits a barely audible sound at 1.9 idle bels.
The company is also releasing a1TB CinemaStar C5K1000 2-5-inch drive, which rotates at 5,400rpm, has an 8MB cache, a 6Gbit/s SATA interface and a maximum areal density of 694 Gbits/in2. Like the Z5K500 its maximum transfer speed is 600MB/sec. The capacity points are 640GB, 750GB and 1TB. This is a 2-platter, 9.5mm thick drive intended for digital video recorders that optimise capacity over slimness. This one is not as quiet, emitting 2.4 bels when idle.
IDC's HDD research VP John Rydning sees CE drive use migrating from the 3.5-inch form factor to the 2.5-inch one, as higher-capacity 2.5-inchers enable thinner devices. Rydning said: "Increasingly, set-top-box, DVR, and game console manufacturers are leveraging smaller 2.5-inch form factor HDDs instead of traditional 3.5-inch drives in more compact CE product designs ... IDC expects 2.5-inch HDD shipments into these applications will grow at a worldwide 2011-2016 compound annual growth rate of 21.8 per cent."
Hitachi GST's 7mm HDDs are being used in Ecostar's Ultraslim DVRs that have just been launched in Europe. OEM samples of the new 2.5-inch CinemaStar drives are now available.
The Z7K500 is faster and thinner than WD's AV-25, which spins at 5,400rpm and holds up to 500GB on two platters. The C5K1000 holds twice as much data while rotating at the same speed as the AV-25. There's a question over whether WD will enhance the AV-25 to compete with these new Hitachi GST drives.
Seagate doesn't appear to have anything directly comparable, although it does have its 3.5-inch Pipeline drives for similar CE applications and SV35.5 drives for 24x7 video surveillance.
WD transfers 3.5-inch assets to Toshiba
WD and Toshiba have completed an arrangement mandated by trade regulators as part of WD's Hitachi GST acquisition, to transfer some 3 to 5-inch hard disk drive manufacturing assets and related IP to Toshiba. WD gets all the shares of Toshiba Storage Device Thailand (TDST) as part of this deal. The principal assets of TSDT are its Thailand property, facilities and employees, which WD plans to integrate into its existing Thailand operations. Financial terms are not being released; there's a surprise.
The transfer enables Toshiba to start sales of 3.5-inch HDDs for desktop PCs and DVD recorders and to enhance its supply of near-line HDDs for servers. Toshiba will consolidate its HDD production at two plants in the Philippines and a contract manufacturer in China. With this added 3.5-inch capacity Toshiba aims to double its HDD sales to 800 billion yen in fiscal year 2014. ®