NASA found filming August's Mars landing in California desert
'Just a rehearsal for the real one', insist rover boffins
---
NASA boffins have been found at a site deep in California's Mojave desert with a Mars rover of the exact type they say will land on Mars this August, filming the machine as it drove about among the Earthly sand dunes.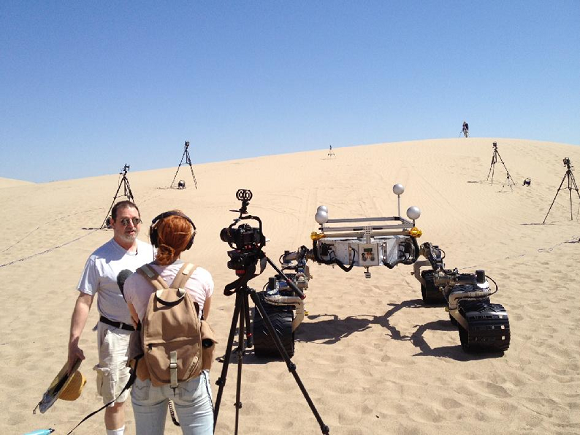 'Hey, we just wanted a lot of footage for, erm, our kids'
But it's all above board, apparently: this is no conspiracy to dupe the public of the type loonies have long speculated about with regard to the Apollo moon landings. The Curiosity nuclear-powered robot raygun prowl-car truly is, even now, hurtling through the vasty deeps of interplanetary space toward a rendezvous with the red planet in August. This week's hijinks at the Mojave's Dumont Dunes are merely an outing for a duplicate practice machine – dubbed "Scarecrow" – intended to let the prospective drivers of Curiosity get their hands in prior to the faraway landing.
According to a statement issued by NASA's Jet Propulsion Laboratory, in charge of the Curiosity mission:
Team members of NASA's Mars Science Laboratory mission took a test rover to Dumont Dunes in California's Mojave Desert this week to improve knowledge of the best way to operate a similar rover, Curiosity, currently flying to Mars for an August landing.

The test rover that they put through paces on various sandy slopes has a full-scale version of Curiosity's mobility system, but it is otherwise stripped down so that it weighs about the same on Earth as Curiosity will weigh in the lesser gravity of Mars.

Information collected in these tests on windward and downwind portions of dunes will be used by the rover team in making decisions about driving Curiosity on dunes near a mountain in the center of Gale Crater.
Scarecrow is apparently so called as it lacks the sophisticated computer brain installed in the proper Curiosity. The lightened practice runabout also doesn't have Curiosity's rock-melting high powered laser or its pocket nuclear powerplant (necessary to furnish decent levels of electrical power for experiments and propulsion, as well as heating against the bitter chill of Mars).
The real Curiosity lifted off atop an Atlas V rocket stack on 26 November last year, and is now sailing towards a 5 August date with destiny. At that point the bowl-like aeroshell craft in which Curiosity and its "sky crane" lander are enclosed will zoom downward into the thin Martian atmosphere for the riskiest part of the mission: the landing. Having been slowed down by atmospheric braking and parachute, the aeroshell will release the skycrane, which is designed to come in to a hover above the desert floor of the Gale Crater on rocket thrust and then lower the rover to touchdown on cables.
Provided this is successful, Curiosity is expected to break all records for distance travelled and science done by human machines on other worlds, being freed from the need to rely on feeble Martian sunlight for electricity and heating.
For now, though, the JPL boffins can only hope that their Mojave test driving is actually going to be necessary. ®