O2 dips toe into Groupon's pond with tat discounts
Polls punters for special offer ideas
---
Taking a leaf out of Groupon's book, O2 is asking its "Priority Moments" customers which firms it would like O2 to negotiate deals with, tapping the social networks to discover that most O2 users like Nandos regardless of their demographic.
Priority Moments is O2's group-buying effort, using the O2 brand to negotiate discounts from suppliers on the basis of bulk ordering. It may seem like a traditional loyalty scheme offering promotional discounts, but Priority Moments actually operates much more like social flavour-of-the-month Groupon, which is why the team is now asking customers which company they should approach next.
That's apparently in contrast to "O2 More", the opt-in service which sends out offers and tokens to customers based on their demographic and (occasionally) location. At a glace the two services look remarkably similar, but O2 assures us they are entirely different:
O2 More is an advertising solution where people can receive adverts for products, usually based on their behaviour or location... it could be an offer, a notification about a new product or something else...
But Priority Moments...
... is a service which lets people get discounts at lots of retailers, [eg] a discount for [a supermarket] where if I spend £60 I get £10 off.
So the difference is in the delivery mechanism: text for "O2 More", an app for "Priority Moments", but also in the way that offers are solicited - advertisers pay to place content in 'More, while 'Moments are negotiated with suppliers on the basis of bulk ordering in the same way that Groupon and its emulators work.
For O2 there's also a demographic difference – one only has to glance at the respective logos to see that O2 More won't be offering supermarket discounts any time soon: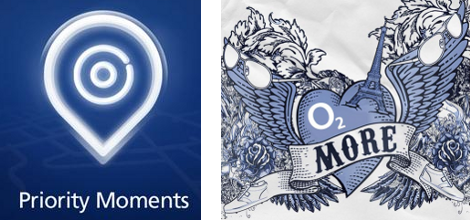 Spot the target demographic with O2
But despite the obvious branding it seems 'Priority customers, those using social networks at least, are equally prepubescent, with calls for group discounts on Xbox live subs and, of course, Nandos.
But O2 won't care about that: this is all about spreading the brand, and its services, out of telephony with its increasingly-thin margins, and into anything else the company thinks it can turn a penny or two on. ®