This article is more than 1 year old
Pure pushes flash stash, mocks spinning disk with YouTube gag
Cheap as NAND chips
Vid Pure Storage is pushing the idea that its deduped flash array is cheaper than tier one enterprise disk array storage but miles faster and more reliable.
The start-up has been engaged in a prolonged, two-year beta trial for its flash array technology and has just announced general availability of its first product: the Flash Array 300-Series. This comes in the dual controller 320 model and single controller 310. Both provide deduplication and compression to increase the effective capacity up to 600 per cent or more; the average data reduction its beta testing has revealed is 5.8:1.
The array software, Purity v2.0, provides VMware vSphere 5.0 VAAI support and has, Pure says, a very neat management GUI with a command line interface for scripting. The firm said: "The FlashArray eliminates whole disciplines of storage management, including: RAID configuration, space reclamation, setting tiering policies, carving LUNs, performance troubleshooting for spindle contention and so on. The new FlashArray GUI enables the provisioning of storage with a single click, and provides in-depth historical performance analytics for no additional fee."
We're told the architecture is scale-out ready, which is intriguing as this is a storming hint scale-out functionality is coming. We might envisage four FlashArrays offering a total of 88TB of raw capacity, or five taking us past 100TB which, with 5:1 data reduction, gives us half a petabyte of usable flash capacity.
The array uses InfiniBand internally, as well as SAS links to the flash drives, and so a InfiniBand-linked cluster looks a future possibility.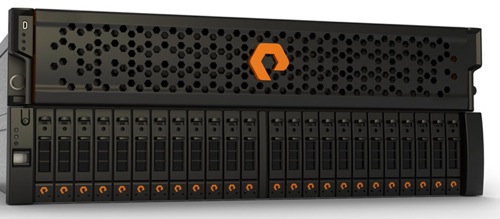 Pure Storage Flash Array 300-Series
Speeds and feeds
The 310 can have between 5.5 and 11 TB of MLC flash, and the 320 11TB to 22TB. The 320 array offers up to 300,000 IOPS, with 180,000 sustained write IOPs, and 3GB/sec read bandwidth with 1GB/sec write bandwidth. The 310 does up to 200,000 random IOPDS, 140,000 sustained random write IOPS, has an up to 2GB/sec bandwidth and sustains a 500MB/sec write bandwidth. Latency is less than 1ms on average.
These are not absolute leading performance numbers but they are good for an MLC array. Comparison numbers from a 32TB Violin Memory 6232 array with MLC flash are up to 500,000 IOPS and 2.8GB/sec bandwidth. A Kaminario K2-F MLC flash array does up to 600,000 IOPS and 8GB/sec, but then its capacity goes up to 100TB. SLC flash arrays can go much faster. A 16TB 6616 from Violin Memory does up to 1 million IOPS with 4GB/sec bandwidth.
Pure brands its MLC flash endurance lengthening technologies – wear-levelling, write reduction, flash geometry-aligned writes, etc – as FlashCare and says the array comes with a 5-year warranty. The 2-controller model has active-active high availability, a RAID-based data integrity scheme and data is fully encrypted. This is a product that self-heals and won't leak your data or lose it.
Pure positioning
It's no surprise that Pure is not positioning its array as a performance rocket for tier 0 data but as a cost-optimised enterprise-class SAN array replacement for primary data. The firm is saying that customers can afford to buy its products in the same way they would buy a SAN array without compromising on enterprise levels of reliability, availability and support. The drives are hot-swappable as are the controllers and NVRAM.
A RAID-3D scheme provides dual drive failure protection with automatic rebuild after a failure, which takes minutes to complete. There are multiple layers of data-level and page-level checksums for data integrity, with background integrity verification and healing.
Because of the two-year beta, with more than 100 production-class units being tested by customers, Pure Storage is effectively saying this "production-hardened" system is not your average version one product.
This is a product that self-heals and won't leak your data or lose it.
Pure's pricing pitch
The pricing strategy is to sell the array in the $5 to $10/GB area – usable gigabytes that is and not raw GB. This is, Pure says, the EMC/HDS/IBM/NetApp flash cached disk drive array area, not the $20 to $50/usable GB area occupied by tier zero DRAM or all-flash appliances like Violin Memory and the coming EMC Thunder.
Pure Storage's pricing is set above that of what it terms "tier two mid-market arrays", such as Dell EqualLogic ones with flash and SATA disk drive tiering. So Pure's pitch is one of much-better than tier one disk drive array performance, approaching tier zero levels, but at tier one drive array pricing.
The positioning against shipping flash array vendors like Violin Memory and WhipTail will include a "We have data reduction and they don't" point – to which their answer might be: "Yet." It's a bit trickier against Nimbus Data and Pure might say Nimbus' product development is limited by its lack of venture capital funding, a problem Pure does not have.
Pure has served up some nice customer stories from its beta test:
Siemens eMeter had an Oracle app and went from 30 servers to five, with a 6.7:1 data reduction and a 23 per cent improvement in Oracle performance.
Advertising analytics business Yodle had a 12-24 hour restore and re-index time with Fibre Channel direct attach disk drives for PostgresSQL data. With Pure Storage that went down to 189 minutes.
SAN attack
Pure's marketing is targeted directly on the mainstream storage and system vendors' SAN arrays.
CEO Scott Dietzen said: "Storage accounts for far too much latency, power, floor space and capital expenditure in the data centre. We set out to push mechanical disk out of the performance path, and to do so by making all-flash storage less expensive than arrays of 15Krpm disk drives that do the performance heavy lifting today. With all-flash storage radically faster, more space and power efficient, simpler and more reliable than disk arrays and hybrids, why buy disk?"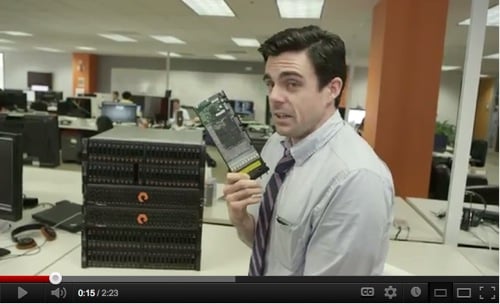 Pure's spoofy SAN disk array attack video
Why buy disk? Well, let's see; because you trust the vendor, are used to running disk arrays, your infrastructure is geared to it, and if it isn't broke you just don't mess with it and fix it; just a few reasons.
Pure's task is to persuade customers that their SANS are broke, can't keep up, and that there is no risk with Pure because of its 2-year customer acceptance beta, its resiliency features and so forth. Get a reliable flash array for a similar per-GB cost and enjoy much better performance, simpler management and the same enterprise class RAS features. This is going to be pure persuasion.
It's released a spoofy YouTube video to start making the point.
There's more than $50m of venture capital invested in Pure that's riding on the answer to this big, big question, namely: "Will customers be persuaded by the Pure story and purchase the Pure flash stash?" ®