iOS App of the Week After happily tapping away with Figure just recently, I decided to try and find some other simple apps that might be fun for musically challenged people like me. SoundBrush is well named, as its clever interface allows you to doodle with sound in the same way that you would sketch with a simple painting app.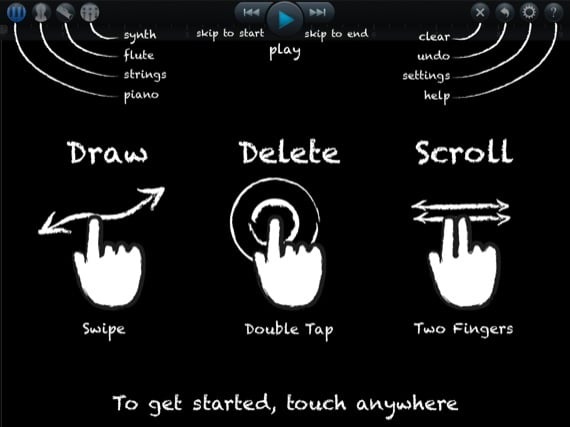 Tap and swipe to jam
Designed specifically for the iPad, the app's workspace consists of a blank screen that acts as your musical 'canvas'. A single row of icons allows you to select four different instruments – piano, flute, strings and synth – each of which is denoted by a different colour. You then 'play' those instruments simply by painting strokes of each colour onto the screen with your finger.
You can raise or lower each note by moving your finger up and down, while horizontal strokes extend the duration of the note. Each sound/stroke is played automatically as you paint it onto the screen, and then remains in place so that you can continue to paint/play other sounds and build up a more complex melody.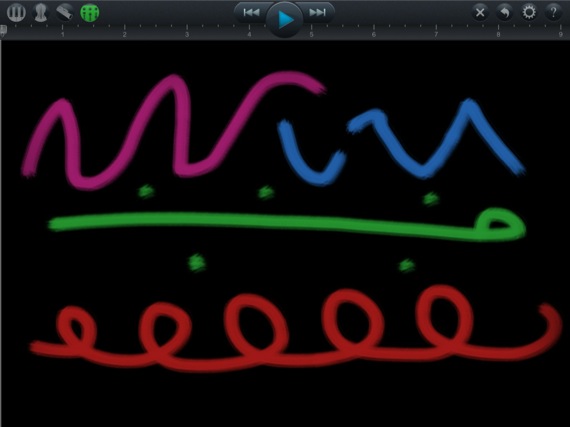 Simple doodles are converted to sounds
It's a clever way of making the musical tools accessible, and kids will love it as they can draw something like a smiley face and then 'play' it to see how it sounds. You can delete any sound with a quick double-tap, or just hit the Clear button to wipe the screen and start all over again.
It's fun to just pass the time by making random doodles, but if you want a bit more control then you can activate a grid that displays individual notes and scales and allows you to tap out tunes with more precision.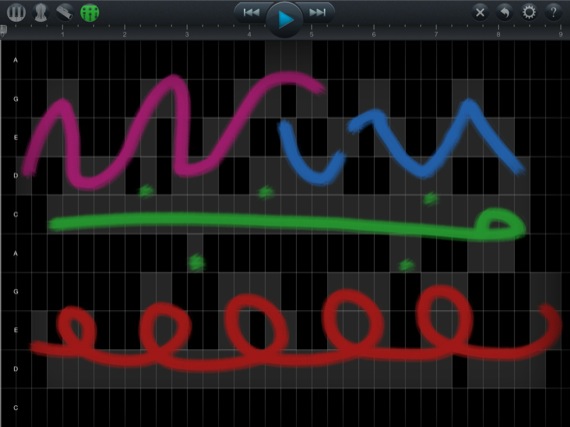 See what notes are played
My only complaint is that, like Figure, SoundBrush lacks an option that would allow you to save and export your musical masterpieces. That omission is a little harder to forgive with SoundBrush as the app costs £1.49, whereas Figure is a mere 69p.
However, the developers of SoundBrush promise that Save and Export will be added in a 1.1 update that is coming soon. ®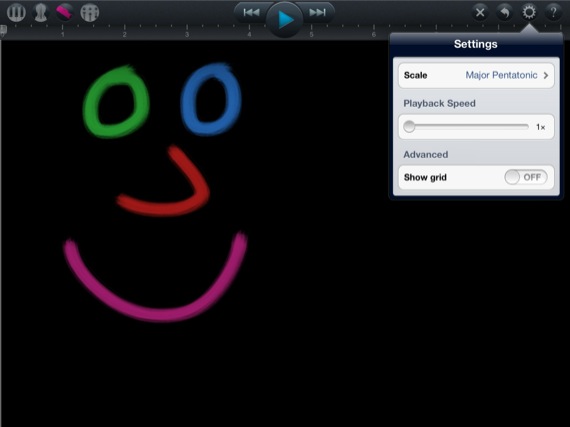 Settings are basic
We make our selection of the best iPhone, iPod and iPad downloads every Thursday. It you think there's an app we should be considering, please let us know.
More iOS App of the Week Winners

SkyDrive
SnapGuide
CloudOn
Figure
PowerCam

SoundBrush
A fun way of creating musical doodles that will particularly appeal to kids.
Similar topics