The BBC will be dropping eight of its Red Button channels after an Olympic splurge, focusing on IPTV content instead of the alternative electronic programme guide that the Red Button had become.
The changes were proposed last year, but have now been confirmed by the BBC Trust as picked up by the a516 blog. Freeview has been limited to a single Red Button stream for a while, but will gain another couple of channels for the Games – only to lose them again as Red Button drops to a single stream across all the BBC broadcast platforms.
Over the Olympics the BBC will provide as many as 24 separate standard-definition channels, and 24 in high definition, though Freeview will only get one of the former and two of the latter, but once the international sports day is over that will drop to a single video stream across all the delivery mechanisms as the BBC instead uses IPTV to deliver additional content.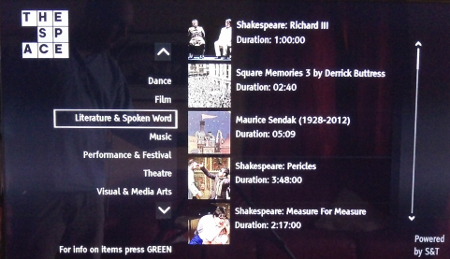 Freeview isn't just broadcast channels these days, not on 117 at least
As well as providing access to digital text services, the BBC's Red Button has provided a way to link users to what are technically other channels but promoted as value-added content, so during the Olympics one might press the Red Button to view a particular sporting event though one could equally well change channel to 302 (on Freeview).
But once the Games are past that will drop to a single channel, which combined with the removal of BBC HD will leave more space for an HD version of BBC2, and reduce the satellite transponder space the BBC has to pay for.
The Trust's report (PDF, long) also confirms how few children are watching content on BBC1 and BBC2 these days, and almost all of those who do also watch CBBC or CBeebies so there's replication of content, which explains why Blue Peter is shuffling over to CBBC.
The BBC has been providing Red Button content since 2002, though (to our minds) it peaked with the Interactive Antiques Roadshow where one could guess the value ahead of the experts. Freeview HD boxes have IPTV decoding built in, good enough to run the BBC's iPlayer and other streamed content, so a shift of focus from broadcast to narrowcast makes sense, for additional content at least. ®