Post-pub nosh deathmatch: Mealy pudding v migas
Hispano-Caledonian full-fat fryfest
---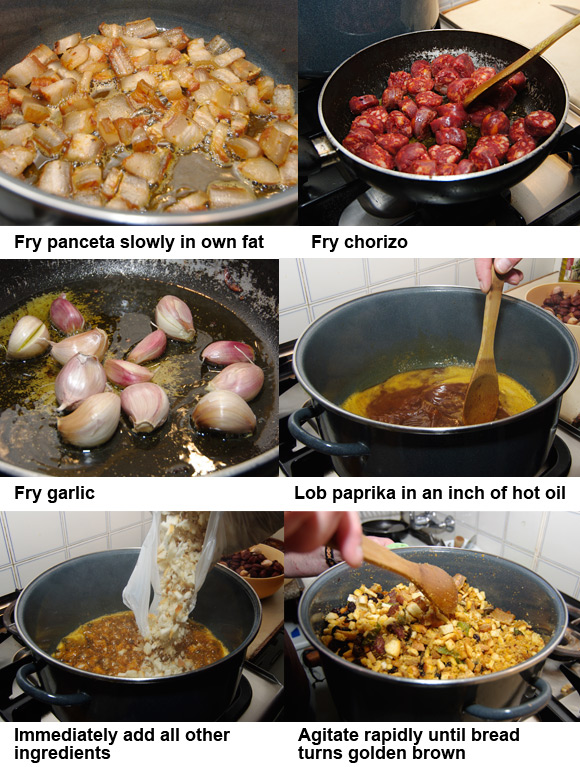 Feast your eyes upon the finished product, ready for the judges: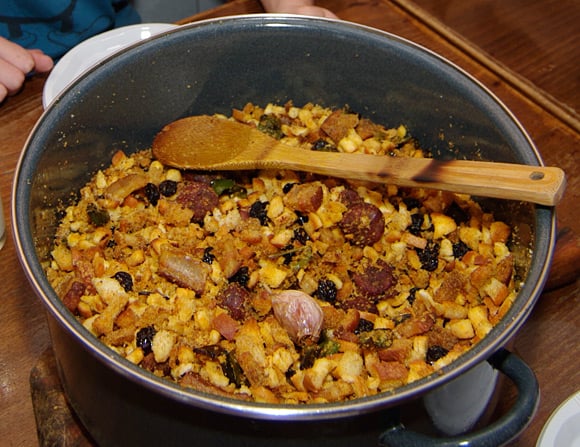 It has to be said that this deathmatch was a bit of an uneven contest, what with inevitable local bias and the fact that the mealy pudding (unleashed from its cheesecloth, sliced and rapidly fried in its own fat) was presented on its own – which is not its natural habitat.
Volunteer waitress Lourdes** was on hand to present both dishes to the eating public...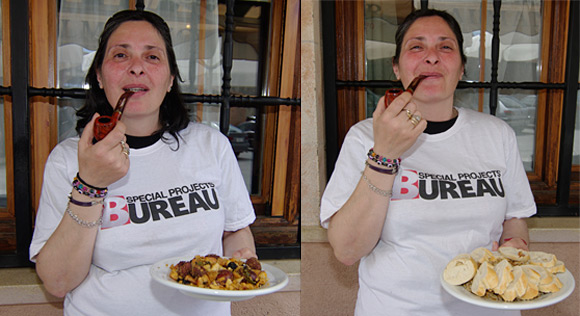 ...who keenly applied their palates to the task: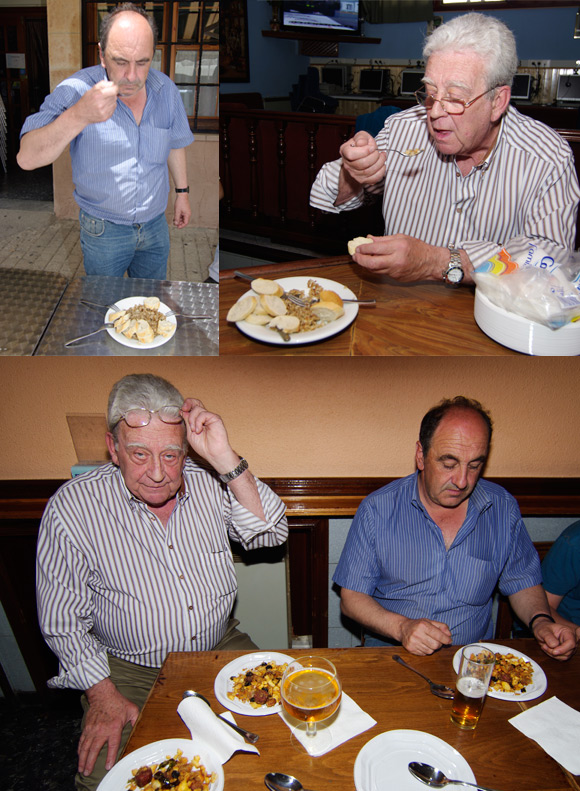 At top left we have my mate Fernando, a local builder, getting his laughing gear round mealy pudding. Actually, there wasn't much laughing going on here, since he swiftly declared himself "not convinced" by Caledonia's suet-rich finest.
"Not convinced" is a euphemism for "absolutely disgusted", and Fernando's rapid dash to the bar for a remedial beer indicated he wouldn't be trying a Glasgow white pudding supper in the near future.
José María Pita (top right in pic), however, reckoned mealy pudding is perfectly palatable, given a sufficient intake of ale.
In the end, though, the PARIS veteran looked a bit happier sitting in front of the migas with Fernando, who appears to have almost recovered from his mealy trauma.
Well, the Spanish jury's out on mealy pudding, but I'm rejecting their verdict anyway. I thought it was delicious, especially when presented as God intended: with bacon, black pudding, sausage, fried egg, toast and a steaming mug of tea.
Yes indeed, ladies and gentlemen, here's a platter guaranteed to alleviate the most severe effects of sailing seven sheets to the wind: the full Spanglish breakfast...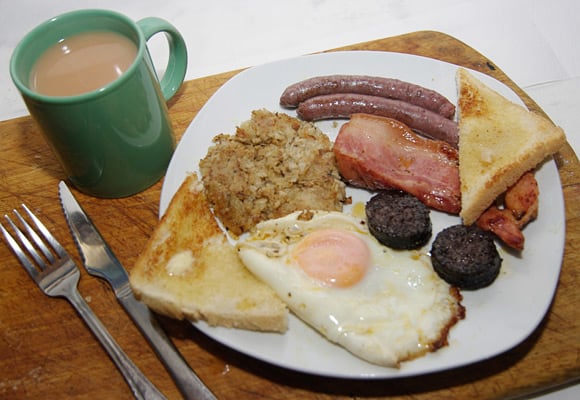 If you've got a suggestion for a future deathmatch contender, or would like to protest that only your grandmother really knew how to make migas/mealy pudding, then get yerself down to Reg forums. ®
Bootnotes
*Here's the conversation with my local butcher, Domingo. Domingo means "Sunday" in Spanish, so I think we can hazard a guess as to what day he popped out of the womb:
Me: Have you got any beef suet?
Domingo (Whipping out improbably large slab of fat) Yes.
Me: That's rather excellent. Could you stick 500 grammes through the mincing machine?
Domingo: I can. What's it for?
Me: I'd prefer not to go into details right now.
Domingo: Fair enough. That'll be €1.80.
**Lourdes is the missus of Fernando the builder. She protested vociferously at not appearing in our kapsalon v quesaldillas deathmatch, so I obliged her to sport a SPB t-shirt and boffin's pipe in return for the international exposure she doubtless deserves.