Product round-up As the speedy texter generation grows longer in the Bluetooth and touchscreen technologies improve, the range of Qwerty phones on offer gets smaller by the day. But for many, they wouldn't use anything else. Indeed, for RIM, Qwerty keys have been the hallmark of it BlackBerry handsets.
Sliderphones aside, Qwerty mobiles have smaller screens and typically benefit from a longer battery life. And, apart from the smartest of the smart that suit the suits, they tend to be cheaper too, making them an ideal choice as the call-from-the-campsite blower. Yet even though Qwerty phones are becoming an endangered species, they can still be spotted in the wild – here are ten we found.
Alcatel One Touch 358

Alcatel offers a wide range of budget Qwertys that rarely set the room alight, but will never dent your wallet. And, as I found out many a time with my super girly One Touch 808, Alcatel handsets can be a very handy to have as a backup. The One Touch 358 doesn't compare with the old clamshell OT 808, though. The buttons are squeaky, clicking in a tacky fashion and I often found myself mistyping while quickly tapping out messages. It's fairly unresponsive too, which can be frustrating if you're a frenetic phone user.
Its 220 x 176 dot 2in display, like the VGA camera, is very old school. While there's an FM radio and music player, its 650mAh battery isn't built to keep such tasks running for long periods. It also has a microSD card limit of just 4GB. At 15 quid, the Alcatel OT 358 was always going to have shortcomings. Still, you get what you pay for and this could fill the bill as the bargain blower for emergencies.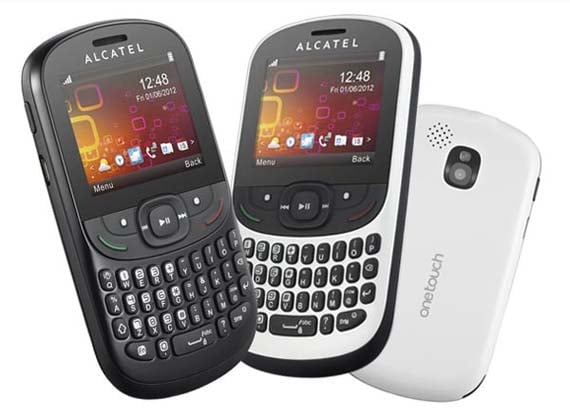 Reg Rating
60%
Price
£15
More Info
Alcatel
BlackBerry Curve 9320

Pitched at the shallow pocketed youth market, RIM's cheapest Curve is packed with social apps with the side Convenience Key defaulting to fire up BlackBerry Messenger. Typing fast on this Qwerty caller isn't an issue, although the more chiclet-style array does feel clacky and unlike most BlackBerry keyboards, its smooth surface design impacts on typing accuracy.
BlackBerry OS 7.1 churns away fluidly powered by a 800MHz processor with 512MB of RAM, but the on-board apps hardly overtax it, although RIM's App World gives some alternative offerings. The 2.4in, 320x240 display is no touchscreen either – its optical trackpad does the navigation duties. RIM's Curve has been its most popular handset range for some time and this model offers an affordable entry into the enduring BlackBerry Messenger mindset.