Vodafone turns to AWS for cricket streaming app
Lessons from Big Brother power live streaming app, lead to cloud CMS at Vodafone Oz
---
Vodafone Hutchison Australia (VHA) "never elegantly and cost-effectively" solved the problem of delivering online content to phone-wielding hordes during its long association with the Australian incarnation of Big Brother. But the company has nailed a cricket-streaming app first time, thanks to cloud services from Amazon Web Services.
One of VHA's predecessor companies, 3 mobile, sponsored several series of Big Brother. At the end of many episodes, viewers were exhorted to continue their prurient perving stay in touch with the show by logging on to view live video streams available on the mobile phones of the day.
Easwaren Siva, VHA's General Manager for Technology Strategy and Product, says "that's when traffic exploded" and admits that "In our first year we did not cope." In the second year, load balancing and other arrangements meant it could serve more simultaneous streams, but still needed a "Sorry, we're overloaded" screen for many viewers.
Those experiences were very much in the company's mind when it contemplated a new app, Cricket Live Australia, that would stream cricket live into mobile handsets and tablet devices.
Creating the app was complicated by the pattern of test cricket, which offers up to five days of action followed by downtime until the next match. Building infrastructure to cope with that load was, as the Big Brother experience showed, rather hard.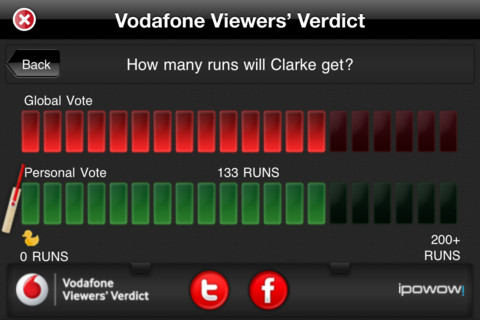 The Viewers' Verdict voting system in VHA's Cricket Live Australia app
Siva told the AWS Summit in Sydney this week that cloud infrastructure was a great fit for the app, as it enabled VHA to back it with heavyweight infrastructure it could rent rather than buy.
Two instances of elastic load balancer, three EC2 instances for MySQL-powered applications and an S3 bucket for storage backed the app, which was downloaded 700,000 times and delivered 500,000 live streams. 24.7 terbaytes of data were sent to iPhones alone in December 2011, in up to 10,000 simultaneous streams.
Siva said the success of the cricket app was so significant that VHA is "now building a unified content management system into the cloud." Oracle WebCenter and Fatwire will be deployed to the cloud to create what Siva said will be a "device agnostic CMS" that will back all the mobile carrier's content efforts.
Vodafone Australia has, in the past, transferred locally-developed technology to other Vodafone companies around the world, notably the "Lara" speech recognition system. The presentation made no mention of the possibility of transferring these cloudy ideas elsewhere, but don't rule it out. ®