IBM to park mainframes on the cloud
Rolls out SmartCloud Enterprise+ for public consumption
IBM is gussying up its SmartCloud public cloud to make it more useful for enterprise-class customers, in the hope it can lure them away from Amazon Web Services, Hewlett-Packard, Dell and others. Big Blue is also promising to put its System z mainframes on its cloud.
With the SmartCloud Enterprise 2.1 release, based on the company's System x x86-based servers, Big Blue is boosting the service level agreement on this basic level of its public cloud from the 99.5 per cent availability guarantee that the company offered at launch time in April 2011 to a 99.9 percent guarantee.
That may not seem like a lot, but it is the difference between just under 48 hours of total downtime per year to just under 9 hours, and this can be a big difference for any company depending on infrastructure to run its business. The much-desired five nines of availability means a system is only offline for a little more than five minutes a year, and it is very unlikely that public clouds will offer that guarantee at an affordable price any time soon – be it from IBM or anyone else.
In addition to higher availability, the SmartCloud Enterprise 2.1 release of the IBM cloud adds support for Red Hat Enterprise Linux 5.8 and 6.2, two key operating systems that ISVs peddling application software and customers wanting to deploy their own stacks on the cloud, have been asking Big Blue to support. IBM initially supported Microsoft's Windows 2003 and 2008, Red Hat's Enterprise Linux 5.4 and 5.5, and SUSE Linux's Enterprise Server 11 on the virtual server slices atop its x86 iron, in either 32-bit or 64-bit images.
IBM says that it has also upgraded the underlying KVM hypervisor it uses on SmartCloud Enterprise for better scalability and performance (but does not say what release level of KVM it is using) as well as upgrading the performance of the persistent block storage service that is separate from the storage allocated to each virtual machine running on the x86 box.
IBM configures each virtual CPU on these machines with 1.25GHz of processing oomph and one, two, or four virtual CPUs, plus 2GB or 4B of memory and from 60GB to 350GB of local disk storage. (You can see the SmartCloud Enterprise configurations here.)
On 64-bit machines, you start out at two virtual cores and can push it up to sixteen virtual cores, with memory ranging from 4GB to 16GB and storage ranging from 60GB to 2TB. IBM offers forum support with the base offering, with Premium Support making available IBM techies by telephone on a 24x7 basis above that. If you want that SLA, you have to buy Advanced Premium Support, which has severity-level support based on the business impact ranging from an hour for severe issues to a day for issues that have no business impact.
That SLA gives you a refund if the IBM does not meet the uptime commitments. The question is whether IBM is providing 99.9 per cent uptime on each hourly slice, and considering that it is pricing based on the hour, this makes sense. You have to reckon for yourself if getting a few bucks back when you biz is down is really compensation.
IBM is also offering add-on support services for operating systems, just like it does on real physical servers running Windows and Linux. Onboarding services for the SmartCloud Enterprise, to help you spit your apps onto the Big Blue Cloud, are a further option. You can see the pricing scheme, which is as complex as that from Amazon for its AWS services, here (PDF).
IBM is offering freebie slices on the SmartCloud Enterprise between now and June 11 if you want to kick the tires.
As promised last year, IBM has also rolled out its SmartCloud Enterprise+, which is a public cloud based on x86 iron virtualized by VMware's ESXi hypervisor mixed with Power-based iron sliced up by Big Blue's own PowerVM hypervisor. This cloud is available now in North America and Europe, with the global roll-out coming in the third quarter.
On x86 iron in the SmartCloud Enterprise+ cloud, you can run Windows Server 2008 or RHEL and the Power nodes can run AIX 6.1, which is one release back from the current IBM Unix. The x86 images range from a small size with one virtual CPU, 1GB of virtual memory, and 64GB of local storage to an extra large image with eight virtual CPUs, 16GB of virtual memory, and 384GB of local storage. (Obviously, on 32-bit images, you can't have the fattest configurations because you run out of memory addressability in the virtualized OS.)
On the Power machines – which we presume are Power7 machines but maybe not, maybe IBM is using up old Power6 and Power6+ machine it has in the barn – configurations range from a small with one virtual CPU, 2GB of virtual memory, and 64GB of local disk to a jumbo with 16 virtual CPUs, 32GB of virtual memory, and 512GB of local storage.
SmartCloud Enterprise+ was previewed last November with a blanket 99.9 per cent uptime guarantee, but IBM is offering a sliding scale of availability with its higher-end public cloud. The bronze level has 98.5 per cent availability, which works out to five and a half solid days of downtime and is pretty much what Windows NT 4.0 Server was offering as a standalone product back in 1998.
Silver offers 99.5 per cent uptime with VM mobility within a cluster. Gold availability gives you 99.7 per cent uptime (a little more than a solid day of downtime a year) and includes automated restart on VM failure. The platinum level of availability pushes it up to 99.9 per cent uptime that the brochureware is talking about, and adds storage replication across different physical storage devices.
You can bring your own Microsoft systems and applications software licenses to the SmartCloud Enterprise+ cloud, and IBM has rolled up Oracle, Microsoft, and open source stacks that you can put on VMs.
IBM is also promising to park its System z mainframe servers on the cloud, which is ironic considering the time-sharing, rental base ancient history of System/360 mainframes from the dawn of the computing age. (It's even funnier if you think of a mainframe, which has had logical partitioning, multi-tenancy, and application frameworks of a sort for more than two decades now, as a kind of private cloud.)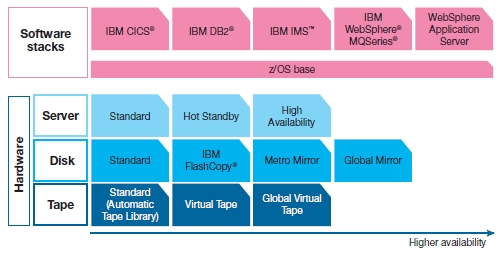 IBM's cloudy mainframe stack
IBM says that it will roll out mainframes onto the SmartCloud for customers in the United States and the United Kingdom latter this year, presumably with customers in other regions getting access soon thereafter. The software stack includes basic processor, disk, and tape capacity with virtual tape, flashcopy and mirroring services for disks, and hit standby and clustering of server images on logical partitions for customers who want to boost the availability of their mainframe images.
IBM will be supporting the recent releases of its own z/OS operating system, CICS transaction monitor, DB2 and IMS databases, WebSphereMQ message queuing middleware, and WebSphere application server on the images. Big Blue was very careful this far to not publish SLA guarantees or pricing for the virtual mainframe slices, but it will be very interesting to see such data.
IBM also said that it would be puffing up its SmartCloud Application Services platform-as-a-service cloud in the third quarter. The pilot to this platform cloud got underway on May 15, and is compatible with the new PureSystems family of modular systems and integrated management software. It's not entirely clear that the IBM platform cloud actually runs on this iron, of course, but it certainly should. The platform cloud includes middleware (WebSphere), database (DB2 Enterprise), SAP applications, and other tools as a service. IBM is letting pilot customers use this platform cloud for free.
SmartCloud Enterprise clouds are spread around the world, with data center in Raleigh, North Carolina, and Boulder, Colorado, all serving customers in the United States, and a center in Toronto, Ontario, servicing Canadian customers. IBM has another data center located in Ehningen, Germany, to serve EMEA, and Asian customers will access the IBM SmartCloud from centers in Singapore and outside of Tokyo.
The company says that it has over one million users running applications on the SmartCloud processing on the order of 4.5 million transactions per day. While those are big numbers, considering that there are probably tens of millions of users processing transactions directly on mainframes in the world, and several tens of millions more on Power Systems gear and another several tens of millions at least on System x iron. And heaven only knows how many hits from the Internet that are not, strictly speaking, transactions. ®