Microsoft launches its own 'so.cl' network
Redmond content for new service to co-exist with Facebook, Google
On the off chance that you have spare moment left in your life after checking Facebook, Twitter, MySpace, LinkedIn, Google+, Pinterest, Instagram, your email and your SMS inbox, Microsoft has launched its very own social network, so.cl. The site's name is pronounced "social".
Microsoft has been hinting at so.cl since last December, but quietly opened the site to new registrants over the weekend while the world was more interested in the valuation of Facebook and the nuptials of its CEO. The service has gone down the usual "sign up now, receive invitation later" route. El Reg's antipodean team was deemed insufficiently cool to be allowed immediate entry, but quick watch of the launch video and a bit of paddling around inside the site revealed that it describes itself thusly:
So.cl is an experiment in open search. That means your searches on So.cl are viewable by other So.cl users and will also be available to third parties.
Elsewhere, the site describes itself as
"an experimental research project, developed by Microsoft's FUSE Labs, focused on exploring the possibilities of social search for the purpose of learning."
Use cases Redmond has dreamed up include:
So.cl combines social networking and search, to help people find and share interesting web pages in the way students do when they work together.
So.cl helps you create rich posts, by assembling montages of visual web content.
To encourage interaction and collaboration, So.cl provides rich media sharing, and real time sharing of videos via "video parties."
Another part of the so.cl screed FAQ on the site says:
We expect students to continue using products such as Facebook, Twitter, LinkedIn and other existing social networks, as well as Bing, Google and other search tools. We hope to encourage students to reimagine how our everyday communication and learning tools can be improved, by researching, learning and sharing in their everyday lives.
Intriguingly, users can sign into the site with their Facebook ID or Windows Live IDs. oauth appears in URLs for the signup page offered even to Windows Live members.
The signup process also produces a screen that looks a lot like Facebook, as you can see below.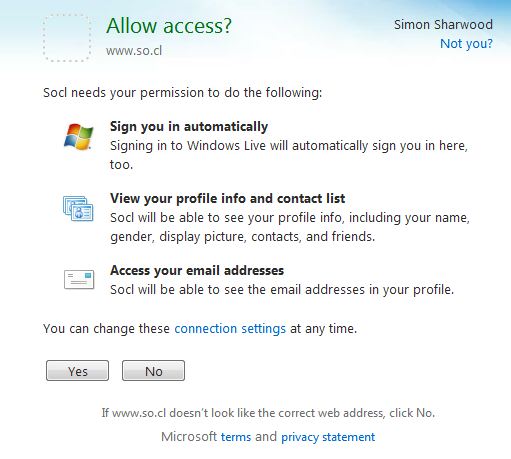 The signup process also informs would-be users that:
So.cl does not automatically post your searches, comments, or likes to your Facebook stream unless you choose this option. Also, we don't contact your Facebook friends unless you invite them.
Bing seems to be the beating heart of so.cl, whose main feature seems to be socialising searches made with Redmond's indexatron. As the FAQ explains:
"By default, searches in So.cl are shared publicly. As students work together, they often search for the same items, and discover new shared interests by sharing links. We see this trend today on many social networks, such as Twitter, where shared links spread virally and amplify popular content. So.cl experiments with this concept by automatically sharing links as you search. The So.cl search experience is powered by Bing, and we use the public Bing API's to display search result data."
Another feature uses Montage, another Microsoft social experiment, to allow creation of "rich posts" that suck in content from numerous sources.
Video parties are another feature, and are billed as allowing you to "search, and quickly assemble a list of movies to view together with friends. You can view any existing party collection created by any other So.cl user, or create your own, and easily chat with other So.cl users."
Microsoft says so.cl is open to everyone, "but it is our goal to focus on learning communities."
That business model worked rather well in the early days of a venture launched by a certain Mr Zuckerberg. Microsoft seems to be hedging its bets, however, as it is already selling so.cl t-shirts. ®