Big Bang secrets hidden in hundreds of petabytes of tape
Blue Waters supercomputer spews into Spectra kit
The NCSA Blue Waters petascale supercomputer is getting massive amounts of Spectra Logic tape library storage.
It will start with four 17-frame Spectra T-Finity tape libraries for near-line data archive needs in the first year. Two more will be installed the following year. This means a raw capacity of 328PB and read/write performance of up to 2.2PB/hour with IBM TS1140 tape drives, the LTO format having lucked out.
These libraries will be supplied by integrator NET Source, the prime contractor for Blue Waters.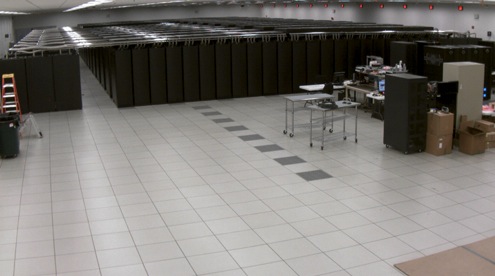 Blue Waters supercomputer during construction
Spectra reckons the Blue Waters system will be one of the world's largest active file archives stored on tape media. The data stored will have been or will be processed by applications such as:
predicting the behaviour of hurricanes and tornadoes
analysing complex biological systems
understanding how the cosmos evolved after the Big Bang
designing new materials at the atomic level
simulating complex engineered systems like the power distribution system in airplanes and automobiles.
Xyratex, which is supplying petabytes of ClusterStor storage through Cray for this NCSA monster, has provided a QuickTime time-lapse video clip of its construction progress. Its current state can be seen here. ®