EMC is mashing up operational data reporting from its products to build dashboards integrating customer spreadsheet and database information to provide charge back and resource usage in an IT-as-a-service scenario. This bridging between EMC operational data and customer data leads to the mashup's moniker: DataBridge.
The product was announced at EMC World in Las Vegas and EMC sees it being used in private, public and hybrid cloud environments with IT resource consumed as a service (ITaaS) which can be invoiced. In a private cloud the charged users could be a line of businesses or departments while in the public cloud they could be tenants.
DataBridge Dashboard
The operational data is delivered in real time and this is a form of specialised SRM – storage resource management – for EMC storage only, with EMC providing a DataBridge studio for customers to build mash-up apps in a drag 'n' drop GUI style of working that combines the EMC kit-generated data and the customer's own information in apps tailored for the customer's own business situation.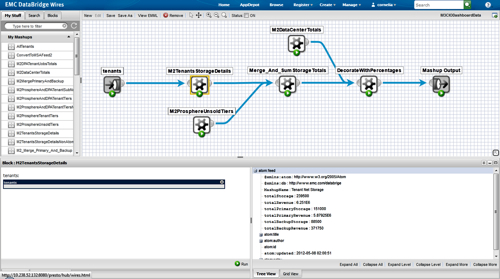 DataBridge Studio
EMC says customers can build and add apps to a DataBridge library for sharing with others in their organisation, and claims this build will be simple and quick. "It enables customers to automate the collection and consolidation of IT data from various sources, filter that data with business logic and add visualisations, all packaged in use-case specific DataBridge apps. With a few clicks, IT operation teams can build and modify intuitive dashboards from a library of pre-built apps that can be dragged-and-dropped into their dashboard."
The apps are built by combining data from EMC and third-party products using REST APIs, SOAP and JAVA programmable interfaces, XML, Microsoft SQL, SharePoint lists and Excel files.
DataBridge will support EMC's ProSphere, Data Protection Advisor, Unified Infrastructure Manager, IT Operations Intelligence Suite, Storage Configuration Advisor and EMC AppSync, "in addition to non-EMC data sources. This enables customers and partners to build DataBridge apps that combine the data from these products with other EMC management software and customer data sources in new, meaningful ways for increased visibility."
There will be two DataBridge apps from EMC covering chargeback and resource analysis for visualisations of storage capacity utilisation. The resource analysis app will provide detailed utilisation information across both primary and backup storage gleaned from ProSphere and Data Protection Advisor.
Actually DataBridge has an obvious possible extension to cover Vblocks, with storage, network and compute data coming across the data bridge, as it were, from the Vblock's component Cisco and EMC physical gear and the VMware software gear. This sort of thing is implied by an EMC statement about the product;
DataBridge will help businesses converge IT operations data, transforming silos of disparate compute, storage and network management information into use-case specific DataBridge apps for better visibility across the infrastructure as part of an IT-as-a-Service (ITaaS) deployment.
EMC Infrastructure Management Group veep and GM Jay Mastaj said: "An average IT operations professional manages data across hundreds of networks, storage arrays, firewalls and applications, each with its own management tool and data source. Manual processes are no longer viable in today's world of instant business decisions. Our vision is to continue developing these types of solutions to help our customers move their crucial data and business operations to the cloud environments." Quite.
There are revenue-generating opportunities for EMC ISVs, service providers, and partners here. They should be able to use use DataBridge to expand their service offerings.
Other SRM software suppliers will probably take an ITaaS approach too, if they have not already done so.
DataBridge will be available later this year as will the two pre-built EMC applications. The pricing model is not to charge for the studio but to charge for the applications and for the number of concurrent seats (users) that can be active at any one time. ®