Review: Raspberry Pi
Bare bones computing
Soft options
Once you have it up and running, and plugged into your display of choice, it's time to start running through the demos on the Demo SD card. The card we were shipped came with Debian Squeeze with an LXDE topping, featuring desktop scripted links to basic apps (AbiWord), programming environments (python games, turtle and Scratch), media box tools (XBMC), graphics demos in Qt, and games (Quake III). Depending on what you're looking to do in a particular session you may need to restart the Rπ with a different memory split; the scripts handle it for you.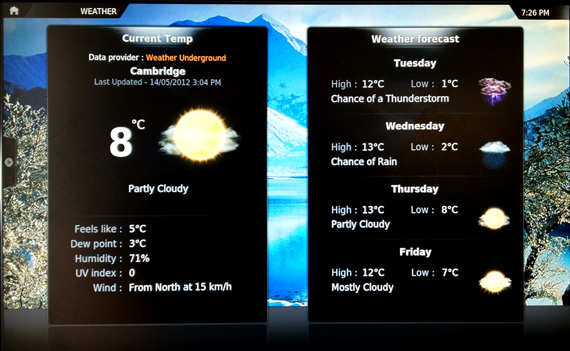 The obligatory weather widgets report the doom and gloom that is British summertime
And the demos are pretty good. Given the right box, appropriate external storage, and suitably encoded files, XBMC running on an Rπ would give an AppleTV a run for its money. The Qt graphics demos are fun in a visualiser sort of way, and Quake III... well if I hadn't had two under-tens hanging over my shoulder at the time I probably would have spent a good hour or two improving my frag stats.
At $25 (or £29) the Rπ is an absolutely astounding piece of kit; at delivering content and games. Graphics-wise, it supports h.264 and OpenGL ES 2.0, and is on a par with the original X-Box, with various claimants putting it more 300 per cent ahead of an iPhone 4 in terms of raw power.
In day-to-day use though, is it a PC replacement? Nope, probably not. The main killer is more the 256MB limit, than the clockspeed. It's fine for word-processing, and a little spreadsheet-ing, but as a thin client, it struggled to deal with the bulk of modern web-app sites – webmail, Dropbox, Stackoverflow and the like – and was prone to hanging when switching between browser windows. This may be down to the current lack of hardware graphics acceleration – which may be addressed in due course.
Lest we forget that price is not the only benefit that the Rπ brings: there's the open source software. Yes it's a double-edged benefit - some may see an unfamiliar interface and linux-bigotry, but for the target market, education, it's clearly a win on a number of counts.
The software is free, there's an existing community, and more stuff will get ported to it over time – rumours about Oracle porting a JAVA VM persist, and there's already ARM versions of Flash out there. If Debian and LXDE aren't your cup of tea, other flavours of Linux are available, and if being tarred with the Linux brush is a step too far, other OSes may be in the pipeline. RISC OS, which has a strong following in education, has already been seen in the wild.