Review: Raspberry Pi
Bare bones computing
Firm Foundation?
The price will get it in the doors of schools, and its open source nature will ensure that there'll be a ready supply of developer tools. More to the point, if it is taken up by education, then it's unlikely to be as a glorified typewriter. ICT will certainly have to change tack slightly, when the kit they're given won't run Office 2010. This may seem a big 'if', but with 75,000 registered interests on the RS site by 29th Feb, I'll take some of that action.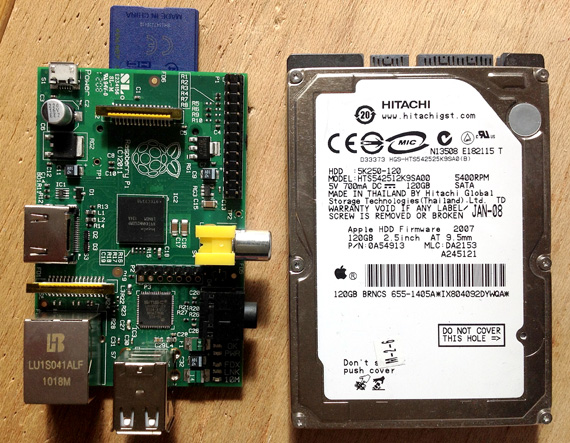 Measuring up against a 2.5in HDD – the Rπ uses an SD card for local storage though
The whole point of this adventure is to make something that kids can learn how to program with. As it stands right now, the Rπ has the potential to fulfil its promise: but it's clearly not there yet. Just having the kit out there is not enough. To paraphrase one astute El Reg reader, "it's the manuals stupid".
To its great credit, the Raspberry Pi Foundation acknowledges this: an educational release is due in the Autumn, which is expected to include a user guide and programming manual. The Rπ Foundation has said that by default, Python will be the educational language – although anything that will compile for ARM6 is fair game – and a number of well-resourced initiatives are organising materials to exploit the availability of Rπ come the Autumn.
But for a grassroots take-up, Rπ will also need tools that make writing teachers' own materials straight forward, and an interface that makes getting started seem less of an initiation into some Linux cult, and more like the "just one way in, zero-distractions, would you like to play a game of chess" command prompt of the the early 80's.
Verdict
So, tongue slightly in cheek, the ultimate success test for Rπ will be, does it help to initiate a second golden age – or is that Diamond Age – of self-educated programmers? No, this isn't nostalgia. It's a reboot; with better production values, a ready-made audience, and priced perfectly for austerity Britain. All we need are some decent writers. Anyone know if Russell T. can write Python? Does anyone have Moffat's number? ®
More Computing Reviews

Unsung Heroes
of Tech
ARM creators
Retro Week:
Complete Coverage
Ten...
Ultrabooks
Best and the Rest:
ARM Mini PCs
Intel Ivy Bridge
Core i7-3770K
quad-core CPU

Review: Raspberry Pi
Unbelievable bang-for-your-buck educational/hobbyist ARM-based PC.