Return to Castle Wolfenstein
Ex the Axis
Antique Code Show As a nipper during the 1970s and early 80s, there can't be a war movie I haven't seen, either at the cinema or on telly on a rain Sunday afternoon. You can surely say the same of Grey Matter Interactive, because its Return to Castle Wolfenstein lets you play pretty much every famous war film scene.
Not that this is a dull combat simulation of the kind that were just becoming popular around that time of its release.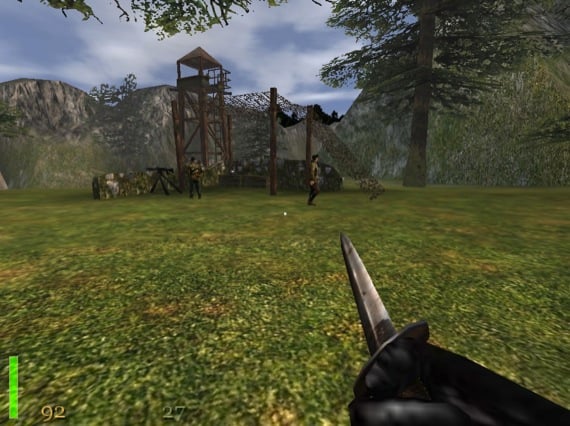 Stick it to 'em
Both Medal of Honour was just then tapping into that turn-of-the-century Saving Private Ryan zeitgeist and brief revival of the World War II movie to deliver straight down the line go-to-war games - as would Grey Matters' next game, Call of Duty.
Fortunately, for those of us keener on Spielberg's other, less xenophobic and more fantasicl work, Raiders of the Lost Ark, there was no choice: RTCW was the game for us.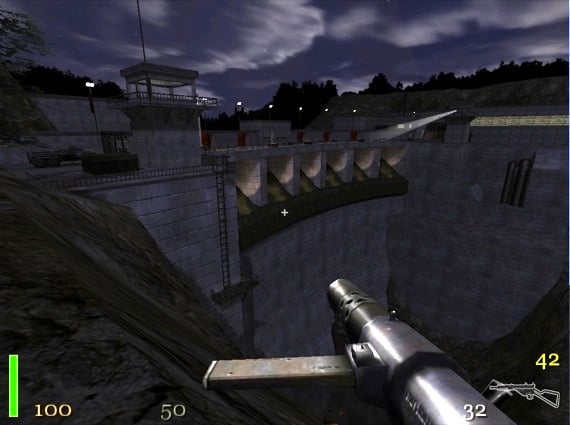 Dam and blast
Yes, you get to shoot, stab or electrocute human Nazis, either in all-out firefights or sneak-into-the-base stealth missions, but there are demons and fire-flinging skeletons too, not to mention bizarre wunderwaffe monstrosities, bio-mechanical fusions flung together in secret science bases and SS castles.
Released in 2001, nine years after iD Software's Wolfenstein 3D - itself inspired by the 1981 Muse release for the Apple II, Castle Wolfenstein - RTCW wasn't so much a sequel as a remake, this time with a full 3D engine and - yes - a plot.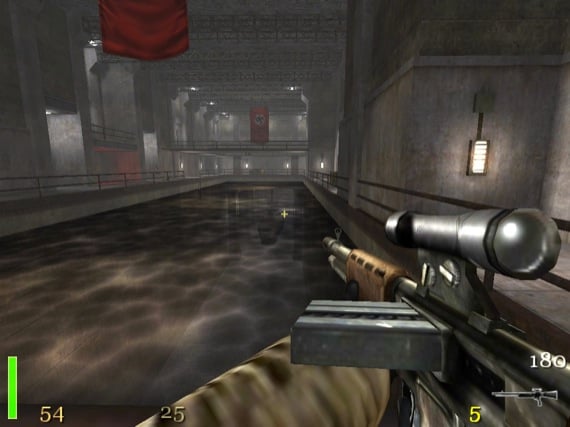 Putting Das Boot in
Once again, you're BJ Blazkowicz, and you start out a prisoner of the Nazis, locked in the titular castle's dungeon with nothing but a knife to your name. Luger pistols, Schmeisser machine pistols, multi-barrel Venom guns and Panzerfaust anti-tank weaponry come to he who fights for them, and soon you're shooting down W3D's hierarchy of enemy soldiers with a similar line-up of kit, all the while looking for secret caches of looted gold.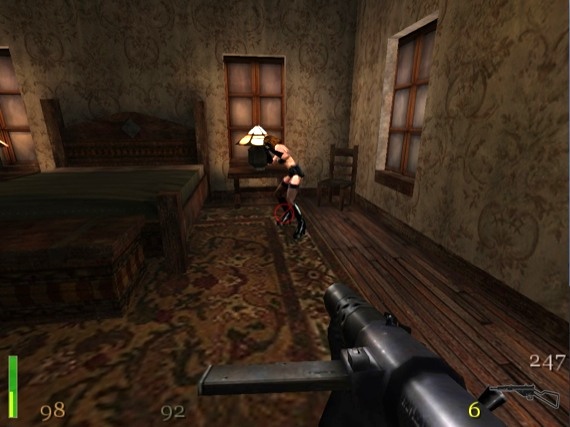 No sex please - I'm working for the British
And then RTCW blows open the scenario and takes you on a journey that has you descending a cable car (Where Eagles Dare) sneaking through alpine villages to battle subterranean killer fire zombies and undead knights, fighting through wrecked urban killing grounds (Stalingrad); sneaking into rocket bases (Operation Crossbow, Guns of Navarone), submarine pens (Das Boot), barbed-wired shrouded forest camps (The Great Escape, kind of), flying-wing launch sites (Raiders of the Lost Ark) and archaeological digs (ditto); trekking through snowy northern wastes (Heroes of the Telemark); crossing spotlight lit dams (Force 10 from Navarone).