Analysis The all-party group of MPs looking into the UK's looming obliteration of copyright rounded on their quarry yesterday - and it turned out to be an enthralling battle of wits.
John Alty and Edmund Quilty of the Intellectual Property Office (IPO) were quizzed on their controversial role in maintaining - or failing to maintain - protections for creative work after being invited to the informal inquiry's third evidence-gathering session in Westminster.
For over an hour the two senior civil servants showed striking indifference to Blighty's creative industries, whose existence relies on copyright law and enforcement. The pair couldn't even muster a word of lukewarm praise nor comment on said industries' economic value to UK plc.
There is one area in which Britain is indisputably world class: armed with a mother tongue that has a vast vocabulary, our mandarins have the ability to create more ways of not answering a question than anyone else. They've perfected it, in the way the Brazilians and Dutch turned football into art. Step overs, dribbles, perplexing diagonal passes into space - the lot. And the IPO officials put all those skills to work yesterday in an exhibition performance.
But the six MPs raising questions, spearheaded by John Whittingdale (Con), Pete Wishart (SNP) and Don Foster (LibDem) were wise to this - and, unlike too many parliamentarians your humble Reg hack has witnessed, they were highly effective.
They wanted answers, and working like tag-team wrestlers they struggled to pin the slippery bureaucrats down. Most points were asked several times, doggedly, in different ways. Ultimately, however, it may be what the witnesses left unsaid that made the greatest impression.
Probing questions: a pain in the neck?
The point of focus was Alty, chief of the IPO. He'd brought along Quilty, the IPO's copyright boss, whose actions had sparked this gentle probe by MPs. Quilty was sat at Alty's left, looking like a pink Sontaran battle commander.
Now, if you know your Doctor Who, you will know that the Sontarans are a fierce and cunning race of warriors, who are capable of hypnotising humans. But they have one weak spot: a "probic vent" at the back of the neck. Even a blow from a shoe on this hole can incapacitate a Sontaran. Sat directly behind Quilty, in the audience, was Ministry of Fun official Adrian Brazier.
Brazier is the digital rights lobbyists' second-favourite civil servant after Quilty, and he has led his department's implementation of the Digital Economy Act. Which, you'll notice, hasn't been implemented. Maybe his positioning was no coincidence. The DCMS man had the vent covered.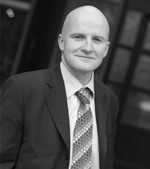 Ed Quilty
IPO Copyright and Enforcement Director
The IPO has a peculiar position. It has one function, which is merely administrative, of registering trademarks and patents. But it also has an advisory role giving ministers policy advice. Alty said it was also "influencing the global rights-granting agenda".
It's this policy creation that's united the creative sectors - a rare achievement - against the IPO and prompted much concern. Wasn't this dual role odd, asked Whittingdale? No, said Alty, the insolvency agency did much the same.
Do you see copyright as impeding innovation and growth, asked Whittingdale.
"Clearly you need a copyright system. I don't think anyone in the mainstream is really challenging that," said Alty. You could feel the "but..." approaching. "The question is where you draw the boundaries, what's the economic impact on difference arrangements, and that's the thing on which people differ, and we gather the evidence and draw a view."
One MP pointed out that Alty's mission statement for the IPO didn't include the protection or support of intellectual property (IP) industries, and in fact made it impossible to support them. Alty repeated the mission statement but at greater length. Copyright is evolving, Quilty chipped in.
Then we got down the nitty gritty: to what extent were bureaucrats not just suggesting policy but creating it, the panel wanted to know. Who makes the recommendations, asked MP Mike Weatherley.
"It's no different to any other part of Whitehall," said Alty. "You wouldn't expect a minister necessarily in a very technical area to suggest 'these are things I want you to consider'. You have to take responsibility."
Whittingdale pointed out that options for overhauling copyright - put forward by the (supposedly) independent Hargreaves Review - were radical and bound to cause controversy when aired by the IPO in a consultation.
"There had to be a rigorous examination of what options were available, what they cost… and that's one of things that has evolved in recent years in a way that wasn't before," Quilty replied. "You'll see impact assessments that support consultations, and which do look at all the options. People have to recognise that's going to be part of policy making."
Well, there's blue-sky thinking, one of the panel countered, and then there's sensible policy. You don't just put all the options out there, surely.
Don Foster tried to pin down the IPO as the source of the controversial education exception proposal in which school textbook authors are effective denied royalties: "Just for the record - you would not recommend that option?" he asked.
"I think the ministers also said…" Alty began to reply.
What about you? Do you recommend that particularly?
"Um. I think that, er… I'm in a slightly awkward position because we have to give advice to ministers, and not to all-party groups," said Alty. "We've given a pretty clear signal that's not the way we intend to go."
(There are times when public servants appear to be extremely uncomfortable with the concept of accountability - and this was perhaps one of them.)
Similar topics