This article is more than 1 year old
Ten... Mi-Fi HSPA 3G wireless mini-routers
DIY hotspots
Product Roundup

If you want cellular data connectivity when you're out and about you can cough up for a laptop or tablet with a Sim card slot, but they are hardly cheap. Or you can tether your phone if your telco lets you.
Another alternative is a portable router. These can be bought with data contracts from the usual suspects, or unlocked so you can just pop in any old Sim and top up your account as and when. Once you have one up and running, you can use it with any Wi-Fi device and service more than one device at a time.
Most of the routers here have batteries, but a couple don't and need USB power. That's not as silly an idea as it sounds. Some are no larger than a USB dongle while others are larger but offer Ethernet connectivity too. None offer a better Wi-Fi throughput than 150Mbps, but don't get hung up on that. These devices are about on-the-go convenience not performance.
To test battery life, I simply left the routers connected to a Windows laptop with a web browser and e-mail client running, and to an Android smartphone. I also put each in my back bedroom to see if I could get a signal in my front room. My house is a three-bed semi built between the wars. They all managed the trick, but most only just.
D-Link Le Petit Router DWR-510

It may look like a 3G dongle but the modem/router switch on the side gives the game away - it's a dongle and a Wi-Fi router. It's small because there's no battery - to use it as a router you have to plug it into a USB power source, either an AC adaptor, a PC or a portable battery like my TekNet 7000mAh Power Bank. As I never leave home without my TekNet, the D-Link makes a good deal of sense to me. There's no Micro SD card slot and HSPA 3G speeds only extend to 7.2Mpbs download, 5.76Mbps upload, but it supports 802.11n Wi-Fi and the fold-away USB connector design is rather clever. In the minus column, there's no default security out of the box and the eternally flashing bright blue LED when you have a 3G connection in router mode is annoying.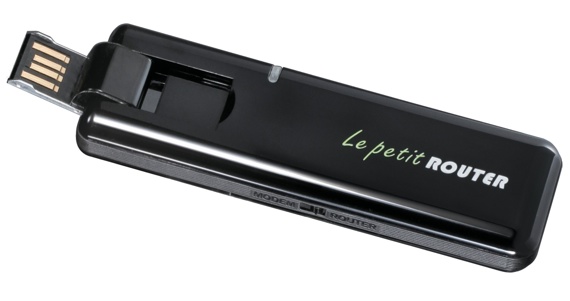 Reg Rating 80%
Price £80
More Info D-Link
Edimax 3G-6218n

The Edimax looks more like a shrunken domestic Wi-Fi router than a pocket device but, at 102 x 69 x 16mm, it's smaller than it looks in the picture. There's no Sim card bay. Instead, you either plug a 3G dongle into the USB port or a cable/DSL Ethernet feed into the RJ-45 port, the Edimax then relaying either as a 802.11n signal. The 1880mAh battery may sound manly, but you'll struggle to get more than three hours from a charge. But at less than £60, this is a cheap and versatile device. The only caveat is the set up, which is a bit of a palaver. Wi-Fi range was very impressive, though.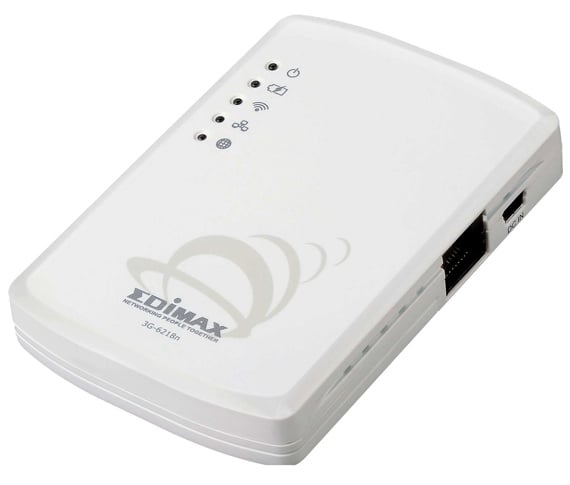 Reg Rating 70%
Price £54
More Info Edimax