Met bobbies will soon be able to scan suspects' fingerprints on the street and pull up their records in seconds using internet-connected handheld gadgets.
London's top cops ordered 350 phone-size devices, which will be used to run identity checks on anyone believed to have committed an offence or potentially wanted for a crime.
The MobileID scanners will supplement the phone data slurpers rolled out earlier this week.
"One of the most powerful weapons criminals have is their ability to hide their true identity," Deputy Chief Constable Peter Goodman said. "With the advent of MobileID, this will become much more difficult, making our communities that much safer."
The pocket tools allow officers to fingerprint a suspect while on the beat and identify the person in the police fingerprint database IDENT1 within two minutes. This turnaround time is contrast to the several hours consumed by detaining a suspect and taking them to a station for fingerprinting.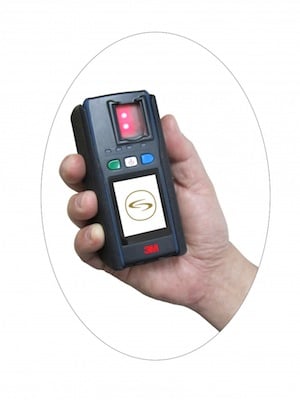 The fingerprint scanners
Sergeant Dean Else, of Westminster Borough, tested the tech last year and said today that the scanners improved Scotland Yard's relationship with the public:
MobileID improves the nature of our interactions with the public because it reduces the amount of time it takes to confirm an identity. At quickest it only takes thirty seconds to get a hit on the mobile device, which is efficient compared to carrying out longer traditional identity checks, often conducted back at the station.
The National Policing Improvement Agency (NPIA) promised that the handheld scanners would bring in average saving of at least 60 minutes per case where used, and said it could be particularly helpful identifying unconscious or slain victims at a crime or accident scene.
The police said fingerprints scanned by MobileID kit are not retained after the check has been run.
Two dozen other police forces in England and Wales adopted the mobile scanners before the Met shelled out for the tech. The MobileID scanners, introduced last summer, are made by 3M Security Systems, a division of 3M Cogent which combines biometrics and broadband tech. ®