This article is more than 1 year old
WTF is... Li-Fi?
Optical data transfer's new leading light?
From Palm Pilots to high-speed data
Germany's Fraunhofer Institute, best known for developing the MP3 audio codec, runs a photonics lab in Dresden. Earlier this year, it said it had created a wireless optical link capable of delivering data at the rate of 3Gbps.
Fraunhofer's technology isn't true VLC - it uses infrared light. So it has the backing of the IrDA, the Infrared Data Association, the organisation founded in 1993 to oversee device-to-device infrared communications standards. You know, beaming business card details from one Palm Pilot to another, or early wireless printing kit, or even linking a computer to an old Nokia phone as a modem.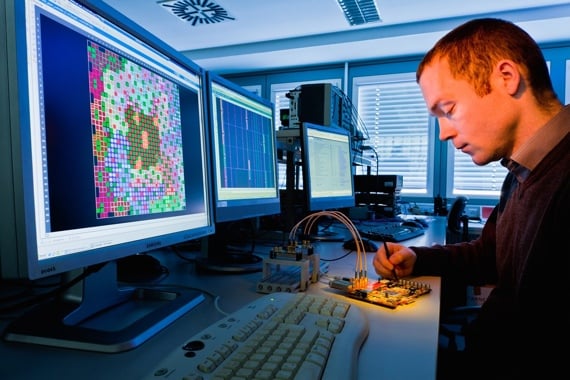 A Fraunhofer boffin tweaks the Institute's IR tech
Hardly anyone builds IrDA ports into devices these days - USB, Bluetooth and Wi-Fi are faster and don't require line of sight. But the IrDA is looking to VLC to give it a new lease of life.
At the end of 2011, it pledged to work to define a new standard for 5Gbps and 10Gbps infrared communications, an effort building on the 1Gbps the existing Giga-IR standard supports. The Fraunhofer kit supports Giga-IR.
At these higher speeds, IrDA believes its updated standard could replace the likes of HDMI and USB 3.0.
D-Light delight
Meanwhile, Haas, together with Ediburgh University colleague Gordon Povey, continues to work with visible light. They and their team at the college's D-Light - "Data Light" - project have created kit capable of 130Mbps data transfer rights. A lot slower than Fraunhofer's rig, to be sure, but one delivered by off-the-shelf parts rather than custom lab components. Povey and Haas believe they can push that speed to at least 1Gbps. Other Li-Fi proponents claim 10Gbps will be possible with specially designed LED lightsources.
Both boffins also run PureVLC, a company founded to commercialise Li-Fi technology on behalf of the University, and this month PureVLC claimed to have sent the first text message send by LED to an unmodified Android handset.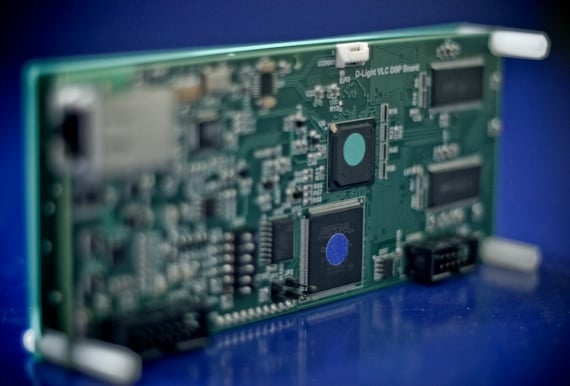 Coming soon: PureVLC's 'Smart Lighting Development Kit' board
To be fair, the data rate was a low 2.5Kbps and it requires a special app to control the handset's cameras and detect the message. But PureVLC's demo showed that messages can be sent with low-cost kit and that doing so doesn't register with the human eye.
PureVLC is also promising to release a "Smart Lighting Development Kit", a full duplex VLC system that connects to standard LED light fixtures, in Q2 2012.