Pics Like all the other tier one server makers, IBM is ramping up shipments on the next wave of Xeon chips from Intel inside of its System x, BladeCenter, and Flex System machinery. Big Blue says the new machines will help fill in some gaps in its x86 system lineup, which previously had been exploited by rivals Hewlett-Packard and Dell.
"We've had a thinner portfolio with a few gaps going up against HP and Dell," Scott Hawkins, manager of worldwide System x x86 server marketing at IBM conceded to El Reg. "But with these new products, we think we are going to do really well and our footprint will grow."
That, of course, has been Big Blue's goal as well as that of its channel partners for many years in the x86 server racket. IBM has a long way to go to catch Dell, which has yet to catch HP except in market sub-segments, like bespoke servers for hyperscale customers, where Dell rules.
But as has been the case for decades, the competition is tough in x86 servers, and judging from the falling profits that both HP and Dell are seeing in their respective ProLiant and PowerEdge lines, it has been particularly cut-throat in recent months. And possibly not just because the world was waiting for the "Ivy Bridge" Xeon E3-1200 v2 and "Sandy Bridge" Xeon E5-2400, E5-2600, and E5-4600 processors. (You can see our detailed coverage of the Xeon E3-1200 v2s here, of the Xeon E5-2600s there, and the Xeon E5-2400s and E5-4600s here.)
IBM has put seven new machines in the field, four of which will start shipping on May 31. Two others ship in June and one in July.
Two of these are based on the Xeon E3-1200 v2 processor, which is a single-socket chip that was historically aimed at workstations and entry tower and rack servers but which is now also shooting for the nascent and fast-growing microserver segment that is popular with certain hyperscale data center and hosting customers.
IBM also has four machines using the Xeon E5-2400, a cut-down and cheaper version of the Xeon E5-2600 that was announced back in March. These include one blade, two rackers, and one compute node for its Flex System UCS-alike modular system.
And finally, IBM is also kicking out an updated quad-socket box based on the Xeon E5-4600, which is a much less expensive and compact processor than the Xeon E7-4800 – which has been used to build four-socket boxes in the most recent Intel-based machines. The E5-4600 is going to breathe new life into the four-socket market, as has the Opteron 6100 and 6200 chips from rival Advanced Micro Devices, particularly for virty server workloads where the size of guest machines can vary greatly and software licenses costs are an issue.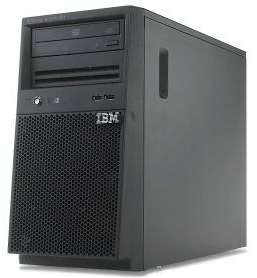 IBM's System x3100 M4 entry tower
The two Ivy Bridge Xeon E3 machines are essentially the same boxes, with slightly different feature sets: one puts the chip into tower box with a fair amount of space and the other crams it into a 1U pizza box with more limited space for peripheral expansion. To date, IBM has not launched a microserver aimed at hyperscale cloud operators, and Hawkins tells El Reg that none are in the works.
The System x3100 M4 tower server is aimed at SMBs and departments of larger organizations that need local computing, but not very much. While the box will support Celeron and Pentium G series chips as well as Core i3-2100 series processors used in desktop boxes, the 4U minitower can take either the "Sandy Bridge" Xeon E3-1200 or the new Ivy Bridge v2 variant, both of which top out with four cores. The machine uses Intel's C202 chipset and has four memory slots, supporting up to 32GB of DDR3 memory; memory can be cranked up to 1.6GHz if you want to pay for the speed. The box has four simple swap 3.5-inch SATA drive bays and can be configured with up to 12TB using 3TB drives. It has another two 5.25-inch bays and comes with software-based RAID mirroring and can be upgraded with a mezzanine card to have RAID 5 data protection across its disks as well. The x3100 M4 sports four PCI-Express slots: two PCI-Express 3.0 slots (one x8 and one x16) and two PCI-Express 2.0 slots (one x4 and one x1). The machine can run Windows Server 2008 in its many incarnations as well as Red Hat Enterprise Linux 5.7 and 6.2 and SUSE Linux Enterprise Server 10 and 11. VMware's ESXi 4.1 Update 2 hypervisor is also certified on the x3100 M4, and the embedded versions of KVM and Xen on RHEL are also supported
The barebones System x3100 M4 comes with a dual-core Core i3-2120 processor running at 3.3GHz, 2GB of memory and no disk, and costs $547. A heftier configuration with the four-core E3-1220 v2 chip – which spins at 3.1GHz, plus 8GB of memory, and no disks – will run you $774. With a 3.5GHz E3-1270 v2 and 16GB of memory (two 8GB sticks, leaving two slots open for later expansion), and three 1TB disks, this machine costs $2,561. This is a reasonably beefy entry server.
The System x3250 M4 is a rack-based singler that can use the new Ivy Bridge Xeon E3s as well as those older Celeron, Pentium, and Xeon E3 processors. The x3250 M4 uses the same C202 chipset and its mobo is put into a 1U rack box that has room for two 3.5-inch SATA or four 2.5-inch SAS drives that have the same disk controller options as the x3100 M4. The server has one PCI-Express 3.0 x8 slot and one PCI-Express 2.0 x4 slot, and comes with a 300 watt power supply with an option for a redundant 460 watter. The same Windows and Linux operating system and hypervisor options are certified on the x3250 M4 as on the x3100 M4.

The Ivy Bridge racker from IBM
The barebones x3250 M4 configuration has the same Core i3-2120, 2GB of memory, and no disk as the tower box and costs $1,119. A more reasonable configuration with the E3-1220 v2 processor (four cores at 3.1GHz) and 8GB of memory costs $1,771. With the four-core E3-1270 v2, 16GB of memory (again, with two of the four memory slots left open), and two 1TB 2.5-inch SAS drives costs $3,142.
Both of these Ivy Bridge servers ship on May 31.