This article is more than 1 year old
London picked as test bed for Skynet-like Intel tech
New UK lab pledged to study citizens in real-time
London will be a guinea pig for future smart city technology after Intel pledged to spend a slice of £25m ($40m) on a new lab in the capital. The chipmaker will also plough millions into research centres dotted around Blighty.
Intel will set up the unwieldily monikered Collaborative Research Institute for Sustainable Connected Cities in the capital in partnership with Imperial College and University College London, it announced yesterday at an event at 10 Downing Street.
The company will spend the £25m over the next five years on all five of its Collaborative Research Institutes, but wouldn't give the breakdown of exactly how much London would be getting. ICL and UCL will also chip in some dosh, but again no figures were bandied about.
At the same event, Chipzilla said it will open a string of research centres around the UK, investing around £45m in an Intel Labs Europe UK R&D network: this will employ 350 researchers in labs including the one in London and others in Brighton, Swindon and Aylesbury to start with, and five more to be decided on by the end of the year.

"It is investments like this that will help us put the UK on the path we need to take to create new jobs, new growth and new prosperity in every corner of our country," Chancellor George Osborne said at the launch.
"We are determined to make the UK the best place to do business in the world and a great place for technology companies to invest and build new business. It is encouraging to see major tech partners like Intel investing in this country as a result of the policies that the Government has put in place," he self-congratulated.
Intel will use the London lab to suss out smart city technology and it will also team up with Shoreditch's Tech City entrepreneurs to use their "social media expertise" to "identify and analyse emerging trends with cities".
"Using London as a testbed, researchers will explore technologies to make cities more aware by harnessing real-time user and city infrastructure data," the company said in a statement, describing similar Skynet-like smart city research elsewhere.
"For example, a sensor network could be used to monitor traffic flows and predict the effects of extreme weather conditions on water supplies, resulting in the delivery of near real-time information to citizens through citywide displays and mobile applications."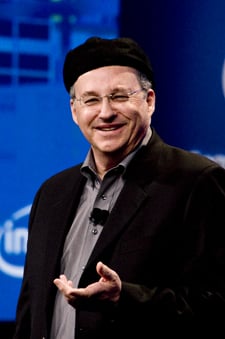 Rattner: City under pre-planned stress
Intel CTO Justin Rattner also said that the London Olympic games would give the firm a great opportunity to look at a city under pressure and figure out where the weak points are.
"London is, as everyone knows, the host city to the 2012 summer Olympic Games, and we plan to use the event to understand the experiences of a city under pre-planned stress. What systems worked or didn't work and why? How were the daily lives of the citizens, workers, and businesses of London affected?" he wondered out loud.
As well as giving Intel the opportunity to see it mess up, London is also a good choice for the research institute as the fifth largest city in the world.
"It has the largest GDP in Europe, and with over 300 languages and 200 ethnic communities, its diversity is a microcosm of the planet itself, offering an exciting test bed to create and define sustainable cities," Rattner enthused. ®