South Africa and Australia to share SKA
Africa to be main site for giant radio telescope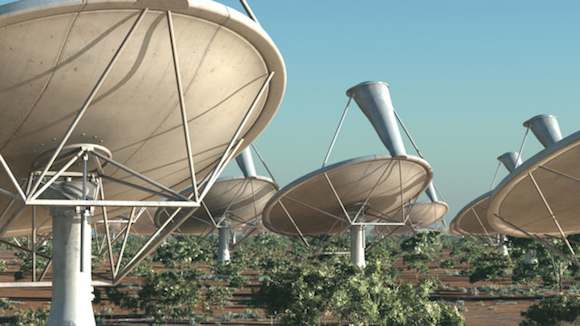 The square kilometre array (SKA) will be shared between Australia and South Africa.
The colossal radio telescope was the subject of bids from both nations, each of which hoped to secure the rights to host hundreds of radio telescopes with a combined surface area of one square kilometre.
The SKA Committee decided on Friday, European time, that it can build a better telescope by spreading it around, although most of the physical infrastructure will be in Africa.
"This position was reached after very careful consideration of information gathered from extensive investigations at both candidate sites," Professor John Womersley, Chair of the SKA Board of Directors, said in a statement.
The statement says "Factors taken into account during the site selection process included levels of radio frequency interference, the long term sustainability of a radio quiet zone, the physical characteristics of the site, long distance data network connectivity, the operating and infrastructure costs as well as the political and working environment."
The SKA committee says the build will proceed as follows:
"The majority of SKA dishes in Phase 1 will be built in South Africa, combined with MeerKAT. Further SKA dishes will be added to the ASKAP array in Australia. All the dishes and the mid frequency aperture arrays for Phase II of the SKA will be built in Southern Africa while the low frequency aperture array antennas for Phase I and II will be built in Australia / New Zealand."
Individual antennas will now therefore be located in spots as diverse as Ghana and New Zealand.
Both nations profess to be chuffed, even though they've only won part of the prize.
Chris Evans, Australia's Science and Research Minister, told The Australian :"This is an outstanding result for the Australia-New Zealand bid after many years of preparation and an intensive international process."
South African newswire news24.com reports South African Science and Technology Minister Naledi Pandor as saying "We accept the compromise in the interest of science and as acknowledgement of the sterling work done by our scientists and the excellent SKA project team."
South African President Jacob Zuma said, in a statement, "We are especially proud of winning this bid particularly on Africa Day. Africa is indeed rising. South Africa is confident that the country will deliver on the expectations of the continent and world."
Once complete, the SKA committee says the telescope will "will enable astronomers to glimpse the formation and evolution of the very first stars and galaxies after the Big Bang, investigate the nature of gravity, and possibly even discover life beyond Earth." ®