A US Star Trek fan has launched an online project aimed at building a working replica of the USS Enterprise … in twenty years.
"BTE Dan", as the fan identifies himself at the buildtheenterprise.org site, says he's tired of stagnation in the world's space programs and feels that shooting for an iconic project like building a ship modelled on the NCC-1701-x would be a jolly good way to get things moving again. Besides, he argues, the Enterprise isn't really that much bigger than other really big stuff humans have built, like Dubai's colossal Burj Khalifa.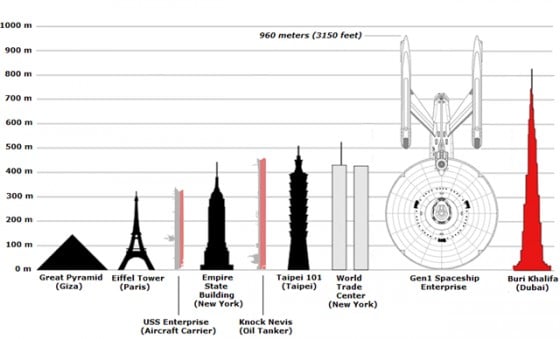 Dan also thinks the design of the Enterprise "is quite functional", not least because the saucer is a fine shape to house a gadget he calls a "gravity wheel" that will rotate endlessly to provide gravity to the crew. "This is accomplished by magnetically suspending the wheel as it rotates inside a sealed donut-shaped cavity that is formed along the interior perimeter of the saucer hull. The wheel touches no other parts of the ship as it continuously rotates at a constant rate," Dan writes. He also suggests the ship that suggest it could hum along quite nicely with electrically-powered ion drives that use on-board nuclear reactors to supply power.
To fund the project, Dan suggests "the US dedicate .27% of its GDP each year to the NASA Enterprise program" and even suggests which US departments can afford a funding cut to pay for the new program. His vision is for the project to run in perpetuity, to ensure a new Enterprise rolls off the production line every 33 years. After four generations of production, he imagines technology will have reached the point at which the newest Enterprise will be able to sustain a constant 1G of thrust and therefore reach Alpha Centauri after a brief, nine-year, cruise.
To get the project moving, Dan imagines an open source design approach. He's not quite sure how that will work, but does have a request he thinks may kick things off: "If you are a professional mechanical engineer, with experience doing 3D component design including fully simulating them for stress analysis, feel free to contact me if you are interested in discussing this further." ®