Vauxhall Ampera hybrid e-car
The electric car comes of age?
First Look Only the most ardent electric-vehicle advocate would argue that the current state of battery technology and absence of recharging infrastructure isn't an impediment to the widespread adoption of the e-car.
On paper, the new Vauxhall Ampera – the European version of the Chevrolet Volt – has the perfect answer to this problem: it provides short-range zero-emission motoring and long-range flexibility in the same vehicle.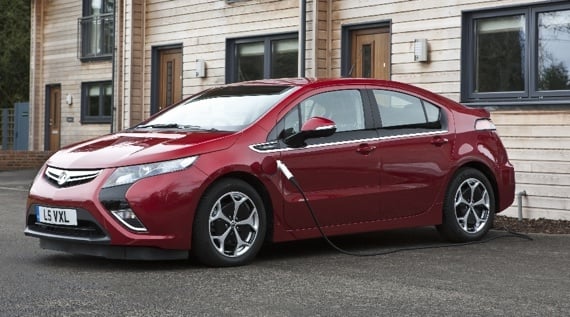 Current model: Vauxhall's Ampera
First some basics. Most of the time, the Ampera is propelled by its 111kW (149bhp) electric traction motor. For the first 35 miles or so, this will be drawing power from a 16kWh lithium-ion battery that can be recharged from any domestic power socket.
When the battery charge hits the 22 per cent mark, an 85bhp 1.4-litre four-cylinder petrol engine fires up to supply the drive motors and keep the next six per cent of the battery topped up as a buffer. To get the battery back to 100 per cent, or rather the usable bit between 22 per cent and 85 per cent, you have to plug it in.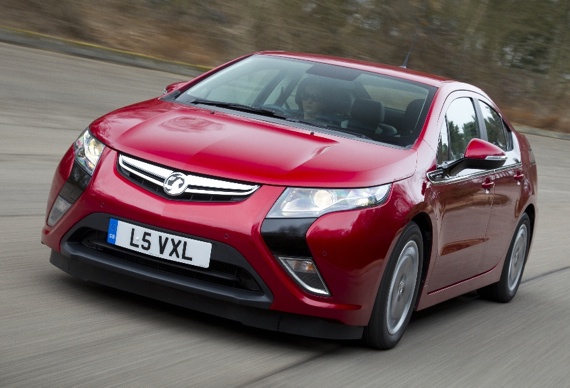 Torque of the town
You will notice I say motors. That's because there are actually two, the primary traction motor and a secondary 53Kw (71bhp) motor/generator. The latter comes into play as a drive motor when cruising at high speed in EV mode and allows the main motor to spin at a lower, and so more efficient, speed.
Under certain circumstances, the petrol engine can also drive the front wheels through the motor/generator with the transaxle and planetary gears blending power from the traction motor and the petrol engine.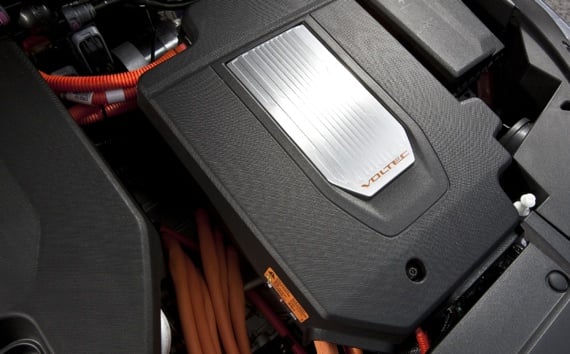 The Voltec powertrain comprises two leccy motors
This explains why so many people get confused over the issue of the Ampera being purely electrically driven at all times. The system that General Motors' engineers have cooked up is a little too clever and subtle for that question to be answered simply yes or no. The correct answer is, "most of the time unless circumstances dictate otherwise".
Get into a fully-charged Ampera and the driving experience is much like a Nissan Leaf: you can sit back and enjoy the total silence and seamless acceleration. The 0-60 dash is dispensed with in 8.7 seconds thanks to a muscular 370Nm (273lb ft) of torque available from the off.