Vauxhall Ampera hybrid e-car
The electric car comes of age?
---
E-motion
Once the Ampera is moving, the 30-70mph sprint takes only 9.9s and the 50-70 6.2s. A diesel BMW 3 Series can do better, but they are still not a bad set of numbers. Top speed is electronically limited to 100mph.
Economy is a more tricky thing to quantify with a range extender EV. After all, if you plug it in every night and only drive it for five miles more than the electric-only range each day then you will get hundreds of miles to the gallon.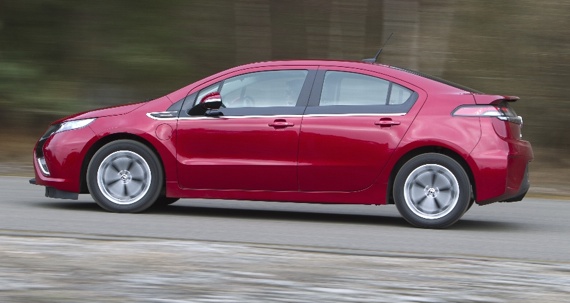 Calculating the dual fuel savings will give you a run for your money
Vauxhall reckons a fully charged battery pack will get you anywhere between 25 and 50 miles down the road. My experience suggests 35 is about the average. Once the battery pack was exhausted and the petrol engine running I got just over 45mpg.
The fuel tank is a relatively small 7.7 gallons but that is good enough to add, in the worse case, another 310 miles to the electric-only range. Of course, the killer feature of the Ampera is that when you get to the end of that 310 miles you only need to find a petrol station and spend five minutes refuelling rather than a 16A 240v socket and three hours.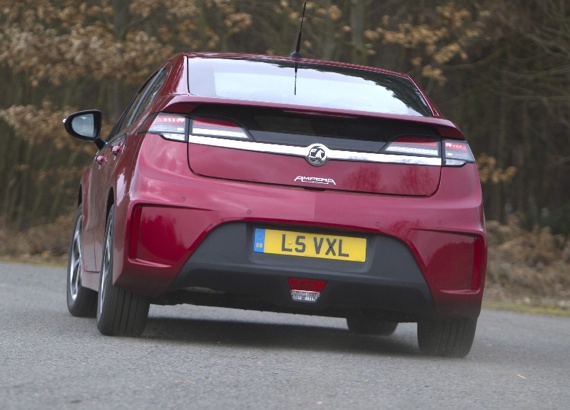 You get a fair amount of roll in the corners
I'll have to wait until Vauxhall lend me an Ampera for a full week to come up with a substantive set of first-hand figures but, according to the official EU test, the Ampera achieves on average 235.4mpg and emits just 27g/km of CO2. That underlines how hard it is to judge real-world economy for a car like this.
One thing I can tell you from a day behind the wheel is that under most circumstance the petrol engine – when running – is barely audible. That's a benefit of it working as a generator. Rather than chasing up and down the rev range, it simply spins at a more or less constant rate to the benefit of refinement and economy.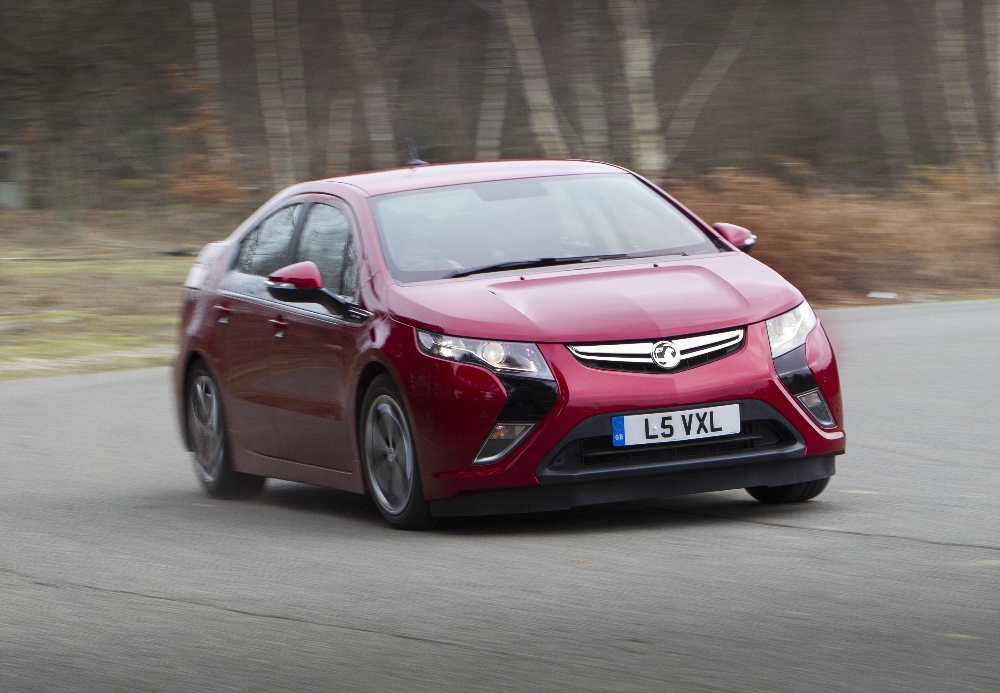 The Ampera's nose is more purposeful than the Volt's
If you're running in range extender mode and really put your foot down – for instance, to accelerate hard up a hill from standstill – then the petrol engine does rev higher and becomes more audible, but your foot needs to be buried in the carpet and the hill a steep one.
Thanks to the handy Hold Charge driving mode, you can run the car on juice from the petrol engine even when the battery is full and so keep it topped up until you need it. For instance, when you enter a zero-emission zone at the end of a planned journey.