Vauxhall Ampera hybrid e-car
The electric car comes of age?
---
Space constrained
On the open road, the Ampera's transatlantic underpinnings are surprisingly hard to notice. The ride is comfortable and the handling on the mountainous B-roads above and around Ruthin in North Wales proved wholly competent. In range-extended mode, the engine and battery buffer always had sufficient power to offer even when I was pushing on.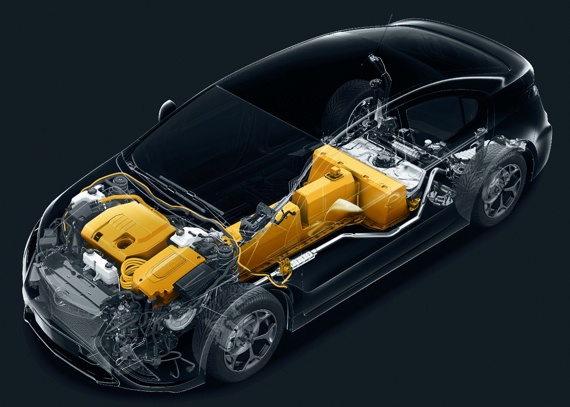 The T-shaped battery limits the back-seat space
The overtly hi-tech cabin is dominated by two 7in LCD displays. These look – and in the case of the touch-sensitive one on the centre console, feel – great. I can't really say the same about the touch-sensitive buttons on the centre console though.
They apparently use less electrical power than standard switches – as do the specially designed, smaller window and wiper motors – but are a bit of a faff to use, though familiarity may remedy that.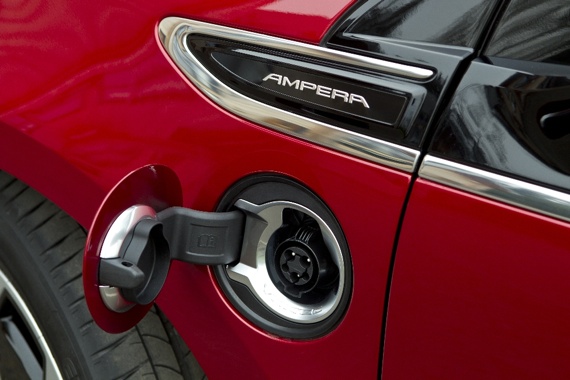 Plug it in here
The Ampera isn't is a particularly spacious car. The 198kg battery pack is arranged in a T-shape, with the cross at the back and the stem running through what in a rear-wheel drive car would be the transmission tunnel. This makes it a dedicated four- rather than five-seater because there simply is no central rear seat.
But even for two in the the back, it's a little short on head and legroom, especially if those up front are six foot plus and have their seats back. The battery doesn't take anything away from boot space, though, which is the equal of what you get in a Ford Focus.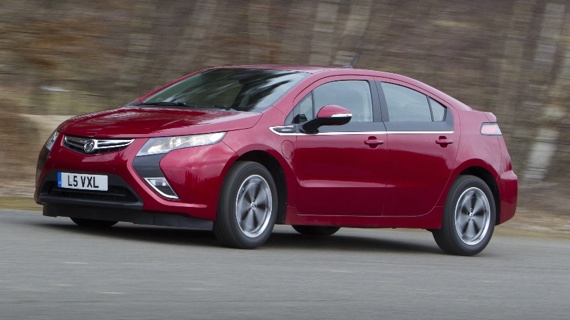 On the move
For my money, the Ampera is a good looking motor car too, more purposeful around the nose than the Volt. And it's rather well screwed together, despite being assembled in America which can sometimes be a byword for cheap plastics and bad fit.
The current entry model will set you back £32,350 after the UK's £5,000 e-car grant, though a lower-spec model costing £29,995 will arrive later in the year. That's about £12,000 more than a five-door turbo-diesel Ford Focus but, to be fair, you do get a lot of standard of kit, including satnav on a 7in screen, alloy wheels, reversing cameras, leather upholstery and a stonkingly good Bose CD/DVD stereo with a 30GB HDD. ®
More Car Reviews

Hyundai Veloster
Renault
Twizy
Renault Mégane
265 Trophy 2.0
Kia Rio
Nissan Leaf

Vauxhall Ampera hybrid e-car
The most practical mostly electric car money can buy
Price:
From £32,250 after Government £5000 e-car grant. RRP